Quilling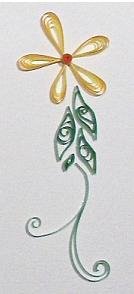 Quilling (also called paper filigree) is an easy paper craft that requires minimal tools. It produces amazing results which can be used for decorating birth announcements, wedding invitations, and greeting cards. Quilled papers can also be used to decorate small boxes, or made into jewelry or refrigerator magnets. Large, composite projects can be framed and presented as stand-alone art.
The art of twirling paper started during the Renaissance when nuns decorated bibles and religious texts with swirly strips of paper. Back then, they used feathers (quills) for writing and it is believed that they rolled the strips of paper around the quill – thus the term "quilling".
When paper became more readily available, upper class ladies would quill the same way they would embroider. Scrolled and rolled papers were used to decorate screens, cabinets, baskets, coasters and the like. Elaborate quilling artwork from the 1700's can be found in museums.

In quilling, a narrow strip of paper (¼" or ⅜" wide) is rolled around a slotted quilling tool to form a tight roll (called a coil). The loose end of the coil is glued onto the roll to prevent unrolling. The coil may be allowed to unroll itself slightly before the loose end is glued on: this forms a "loose coil". Loose coils can be shaped by pinching the ends to form teardrop or crescent moon shapes. These coils are then arranged into flowers, fruits, animals, and any shape imaginable.
Quilling requires very few tools. For a beginner, you will need strips of paper, a slotted quilling tool, and glue. However, as with any craft, you begin to desire more tools as your projects progress in complexity. For example, serious quilling enthusiasts will use a circle template, a cork board, pins, forceps, scissors, and a quilling fringer.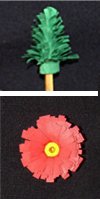 Unlike origami, quilling is very easy to learn. Once you've spend an hour doing it you can launch into other projects without further instructions. Books will give you creative ideas and specialized techniques, but the basic quilling method is all that you need to get going.

Noteworthy and Different
Check out this amazing "Architectural Quilling" project by Allison Patrick. And she's not even an expert quiller. Read more here.
Let's take it up another level: Happy Caker from
TJ's Happy Cakes
made a Quilling Cake which looks simply fabulous. She's not alone though, if you google quilling cake, you will find
many examples
of creative bakers who incorporate the age old art of quilling.
It's not all sugar 'n spice and everything nice. Quilling has even made it to Noah Scalin's
skull-a-day
blogspot. It's a great idea as a Halloween decoration, and of course, for those who love skulls.