Origami Butterfly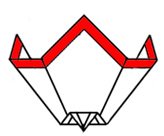 Mecho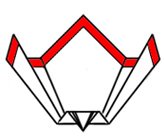 Ocho
Everyone knows that the art of paper-folding has been around for a long time; probably over a 1000 years. But, did you know that two of the oldest examples of recreational origami are butterflies called "Mecho" and "Ocho"? Mecho (female) and Ocho (male) are two paper butterflies that adorn sake wine bottles during Japanese wedding ceremonies. Read more here. A butterfly attracts our attention because of its beautiful, showy wings. But how can you appreciate it if it flutters away? And if it landed on you, you will quickly discover that under those angelic wings – it is just a bug. In contrast, an origami butterfly:
beautiful,
is not creepy crawly,
won't fly away,
won't die on you.
In essence, if you can fold it, it is yours forever.
Origami Butterfly Diagrams
Big Squash Butterfly: pg 1 , pg 2 (C Santee)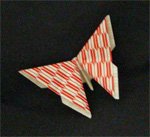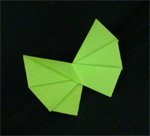 Money Origami Butterfly



---
Books about Origami Butterflies
Butterfly Origami by Roman Diaz
Butterflies in Origami by Nick Robinson
Easy Butterfly Origami by Tammy Yee
Origami Butterflies Mini Kit: Kit with Origami Book, and Instructional DVD by LaFosse and Alexander
See books with origami butterflies