School Projects in Paper Arts
Are you an educator and want to incorporate School Projects with origami and paper arts into your program? Perhaps you are a parent and want to introduce your child to the joy of paper arts. Either way, this is the place for you. I have volunteered in elementary schools for many years and have discovered what works and what doesn't. Below is a list of origami and paper projects which I teach to first graders through 3rd graders.
I usually start a paper arts program in October. This gives the students time to familiarize themselves with their new teacher and the rules of the room. By October, they are ready for some extra fun – with me!
---
October projects
1 Paper Airplane
2 Pop-Up Card
3 Magic Wand
4 Halloween Bat
  (details here)
I always start my first origami project with a paper airplane. Kids love this action model and it gives them so much joy to fold and fly their airplanes. This model is sure to make them see me as their friend – as someone who can help them – as someone to listen to – as someone to look forward to ever week – and as someone who can guide them in an adventure in paper folding.
Halloween crafts play a major role in the latter half of the month.
---
November projects

1 Toothpick Amer Flag
2 Kirigami Star
3 Pencil Toppers
4 Origami Turkey
  (details here)
November proves to be an interesting month for volunteer work. On one hand, I have a lot of options because November has Veteran's Day and Thanksgiving. But I am also limited since there is no school on both holidays. As well, teachers often have a very busy November schedule since they may host in-class Thanksgiving dinners or plays. Students tend to be quite unruly in November, possibly because of the high holiday content (Halloween, Thanksgiving, Hanukkah, Kwanzaa, and Christmas).

---
December projects
1 Tree Pop Up Card
2 Candy Cane
3 Christmas Tree
4 Kirigami Star of David
  (details here)
Year after year, December remains the most exciting month of the entire year. The Christmas buzz starts right away and continues until winter break. In between, you have Hanukkah and Kwanzaa. There are many, many Christmas themed origami projects and only a handful of Jewish origami/kirigami crafts. Pick and choose your school projects based on how much time you have and the demographics of the students.
---
January projects
1 Kirigami Snowflake
2 Kirigami Decoration
3 Paper Chain of Dolls
4 Chinese Paper Lantern
  (details here)
January is often a quiet month. Children have spent their energies over the winter break and the cool weather dampens their spirit. I fill January with paper-cutting projects which seem easier than paper-folding projects. I choose easy-to-accomplish school projects that will warm their hearts and boost their self esteem.
January, a winter month, is a good time to cut paper snowflakes. In observance of Martin Luther King: try cutting a chain of dolls all holding hands. And don't forget Chinese New Year: a perfect time to teach the classic Chinese Paper Lantern.
---
February projects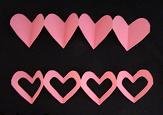 1 Valentine Pop-Up Card
2 Origami Heart
3 Weaved Heart Basket
4 Paper Chain Hearts
Friendship and love surpasses all borders and the heart is commonly used to express these feelings. In honor of Valentines Day, February is devoted to hearts. We have folded hearts, weaved hearts, cut out hearts, and heart cards.
Even though Valentines Day is officially over on the 14th, I teach Valentine themed arts and crafts all month long. Hey – why not? We can all do with a little extra ♥ .
---
March Projects
1. Pot of Gold Pop-Up
2. 3D Stand Up Clover
3. Box of Gold
4. Cootie Catcher
Interestingly, most origami projects which involve clovers, shamrocks, or leprechauns are rather complex. Nevertheless, there are a few interesting paper crafts suited for St Patrick's Day: a pop-up card, a stand-up shamrock, and an easy origami box. If you decorate the origami boxes with green clovers, it can be used to hold St Patrick's Day chocolate coins. alternatively, use pastel colors and make it into an Easter-themed box.
The last week of March is used to make an April Fools origami project: the classic cootie catcher. Do you know why it is called a cootie catcher? Find out here.
---
April School Projects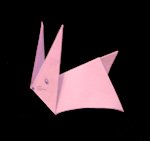 1 Origami Rabbit
2 Origami Rabbit Head
3 Tie-Dye Napkins
4 Origami Flower
April is filled with Easter fun. I teach the students how to make an origami bunny rabbit and an origami rabbit head. The bunny rabbit is quite popular and parents complain to me that their house is quickly filled with little bunnies everywhere.
If you decorate eggs, save that left over dye! Students can make fabulous tie dye napkins.
April showers bring May flowers. I also introduce a few origami flowers. These take us into May where we can present our paper flowers to our Mothers.
---
May School Projects
1 Simple Flower
2 Mother and Child Swan
3 Origami Butterfly
4 Whirligig & Kite
May paper projects is a celebration of spring and early summer: flowers, butterflies; fun things such as whirligigs and kites; and a special Mother-and-Child Swan. Fun, fun, fun! Check it out!
---
June School Projects

1. Origami Tie
2. Origami shirt
3. Origami Sunglasses
June is dedicated to Fathers. What better way to celebrate Father's Day than to give Daddy gifts from the heart, made by the hand! On the menu for this last month of the school year is an origami tie and an origami sunglasses to enhance Daddy's wardrobe. Let's give Dad a new paper car which he can drive to get to his new paper boat! While fishing, why not let him catch a few weaved paper fish. It's a project devoted to dads.
---
 
Finally, the school year is nearing an end. If you have followed these origami and paper arts project, you must have noticed that your children and students are becoming more and more proficient in their work. Not surprising: origami has been known to have many educational and health benefits.
Although these projects have been designed for grades 1 and 2 children, you can easily expand the curriculum to include older children. There are many books which use origami to teach geometry and other mathematical concepts. See them here.