Origami Dinosaurs
Origami Dinosaurs: children love dinosaurs and they love paper folding too. Put them together and you get paper dinosaurs! Unfortunately, most of the models on this page are too complex for children. The only exceptions are:
– the Mammoth (Nick Robinson).
– the One Fold Stegasaurus (Joseph Wu), and
– the snapping dinosaur head (traditional)
Stephen O'Hanlon's dinosaurs diagrams are particularly noteworthy. His web site has many dinosaurs with their bio's too.
 
Origami Dinosaurs Diagrams

Origami Dinosaurs Diagrams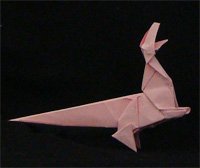 ---
More cool dinos from Michael LaFosse's book. See book review: