Origami Wedding
Your wedding will be a landmark event that you will cherish for the rest of your life. Will it be a modest ceremony or an elaborate one that requires much money and planning? Regardless of which kind of party you are having, you will be making decisions from the day you send the Invitations to the day you send the Thank You cards. Why not choose to include a bit of origami in your wedding plans?
Origami has always been a very elegant art form. A crane here,… a bouquet of flowers there… how about some butterflies? There are many models suitable for weddings and there are many colors of origami paper to match the color of your special day.
Are you worried about the cost of bridal invitations? Make your own origami decorations to help keep the cost down. Do you have premarital jitters? Origami will help you there too: soothe your nerves by folding paper into beautiful models.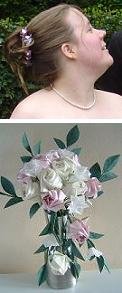 Flowers
There are many origami flowers which you can make for your wedding. But your best bet is probably the Iris flower. It is a traditional model that looks very nice and is "intermediate-low" in its level of difficulty. Origami roses are also very beautiful, but they are more difficult to fold. The most beloved origami rose is the Kawasaki rose, though there are many other kinds of roses too.
What can you do with origami flowers? You can put them in your hair or on your dress. They can be arranged into a corsage or a boutonniere. They can be made into a bouquet or centerpiece. Basically, you can use them anywhere real flowers might be used. [Photo from E Tysoe]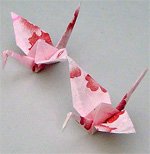 Cranes
Cranes have always occupied a special place in Asian history and culture. Cranes are considered auspicious and symbolize longevity & good health. It is believed that cranes mate for life* and both male & female work together to build their nest. Thus, cranes may be the perfect symbol for your wedding. They say that if you fold 1000 paper cranes, then your heart's desire will come true. [Photo by V Ko]
Butterflies
Certainly, butterflies are beautiful, but what are their significance in love, life, and marriage? In China, two butterflies flying together is a symbol of love. In the story Butterfly Lovers (a tragic folk story analogous to "Romeo and Juliette"), the spirit of the true lovers appear as two butterflies.
In Japan, "Mecho" and "Ocho" are two paper butterflies often seen in weddings. Mecho is the female and Ocho is the male. Their symbolism is unclear: they may represent love and all those wonderful things associated with matrimony; however, it may be that Mecho and Ocho are simply decorations used to wrap sake bottles in wedding ceremonies.
Origami Wedding Hearts
What's a wedding without love? Hearts are the universal icon signifying love & affection. Origami offers many styles of origami hearts. Most are flat so they can be glued onto a card or onto the wall as a decoration. There are a few 3D hearts, the Lucky Heart being the easiest one to fold. These can be scattered on the table as decorations or can be used as party favors. Print the name of the bride and groom and you're set! Decorate with heart shaped paper chains for something really low-key and affordable.


Center Pieces
Golden Venture folding (also called Chinese paper folding) is a versatile form or origami where triangular units are assembled into larger models. Can you imagine this modular swan gracing your guests' tables? This "small" swan takes 300 triangular units whereas the "big" swan takes 500 units. Definitely a conversational piece.
Folded Book Art is a fairly new addition to the origami family. Pages of a book are folded in such a way that words or symbols are visible at the side of the book. Names of bride, groom, and words of love are common themes. They make stunning centerpieces.
Modular origami balls can be stunning center pieces. Some of the models are very geometric, but other are beautiful floral balls or globes. Use pastel colors to illicit a soft, warm feel or bright contrasting colors to make a splash. see how this bride decorated her wedding with origami
Sugarworks doesn't fold paper, but they do make incredible sugar sculptures that can be used as center pieces, dessert garnishes, and wedding favors. Particularly noteworthy are the crane cake-toppers, sugar butterflies, and sugar cranes. Use coupon code D-J07 to get a free gift with any purchase.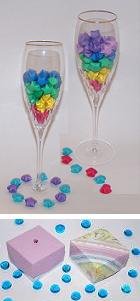 Party Favors
Tableware and room decor often comes with the price of the reception room. But, you always have to make your own party favors. What's it going to be? A bag of sweets? A box of truffles? Maybe a pair of engraved champagne flutes? Either way, origami can be of service here too:
A paper crane balance on top of a champagne flute adds a special touch and "lucky stars" are great inside any glass container. There are a variety of boxes that you can make with decorative paper: use these for your candies & chocolate wedding favors.
When it comes to origami boxes, your best bet is probably the Masu box – easy to make and looks great. The Magazine box is also easy to make, but the design is not quite as clean as the Masu box. There are a number of good books dedicated to origami boxes – lovely, twist-lids will surely please your eyes. see photos here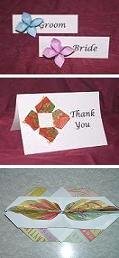 Place Cards, Invitations, Thank You Cards
A little crane or flower glued to the side of a place card will really impress your guests – such fine detailing! Hans Birkeland's web site gives instructions on how to make decorative place cards with the origami models embedded within (no glue necessary). Check it out here.
It is difficult to incorporate origami in Invitation Cards and Thank You cards. This is because the cards need to be flat so that they can be sent in the mail. You might consider "tea bag folding" or "iris folding"; two paper art forms which are particularly well suited for making cards. [Bottom photo: Tato gift card holder folded by JB Weiss]
More Ideas
Origami representations of the bride & groom are popular themes. Probably the most astounding one is The Last Waltz by Neal Elias. You can find an instructional video on how to fold this model here. You can buy the diagrams from books; search "last waltz" and "Elias, Neal" here. [Photo from D Walker]
Two dimensional versions of bride & groom also exist. These flat models can be used for making cards. [Photo by E Tysoe]