Polyhedra Origami
(with one sheet of paper)
This page is dedicated to origami polyhedra – paper polyhedron models made from a single sheet of paper. These include 3D geometric shapes such as cubes, tetrahedrons, pyramids and more. Polyhedra made with a single sheet of paper is somewhat more rare and difficult to fold; most are the crease-and-collapse type. In contrast, origami polyhedra made using many sheets of paper is quite abundant. Click here to read about modular origami and here to get free diagrams.
Diagrams for Single-Sheet Polyhedra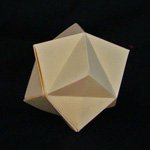 ---
Polyhedra Origami Books
Want more? John Montroll has 3 books dedicated to origami polyhedra made from a single sheet of uncut paper.
Origami Polyhedra Design
(book review)
A Constellation of Origami Polyhedra
(from amazon)
A Plethora of Polyhedra in Origami
(from amazon)
3D Origami Platonic Solids and More
(from amazon)