Quilling Fan Shaped Husking
Husking is a technique in quilling which allows you to form looped shapes of defined size. There are two styles of huskings:
      • Straight Husking
      • Fan Shaped Husking
Unlike making loose coils, it is relatively easy to make loops of the same size when you use the technique of husking. Here, the paper strip is wrapped around pins – the pins define the location where the paper will be placed down. Husking is a more controlled process allowing for a more uniform project.
Quilling: Fan Shaped Husking
Place 6 or more pins in a circular pattern.
Take your quilling paper and fold the end to form a hook.
Hook the paper onto the first pin.
Place a dab of glue on the paper on the outside of the hook.

 


Wrap the long end of the paper around the fourth pin (or the pin that marks the tallest point of the fan shape.
Bring the paper back towards the first pin to form a loop. Pinch the papers to glue them together.
Weave the paper towards the fifth pin (a pin adjacent to the one just used).

 


Apply a dab of glue on the paper near the first pin.
Wrap the paper around the fifth pin, bring it back towards the first pin, and hold the papers together at the base of the fan shape until the glue sets.
Wrap the paper around the third pin (the pin on the other side of the tallest point of fan shape).

 


Place a dab of glue on the paper near the first pin and repeat the process.
Weave the paper around the pins alternate from one side to the other side until all the pins are used up.
The husking should look like a fan shape.

 


When done, you have two choices. You can cut off excess paper and glue the tail end of the paper to the husking.
Remove pins and then remove your husking.
The fan shape husking is beautiful and can even stand upright.

 


Another choice is to wrap the paper around the entire husking one or more times. You can use the same length of paper or you can use a different strip of paper to get a change in color.

This gives a totally different look. The wrapped husking is more stable and if you want, you can add a dab of glue at each point of contact to secure the final shape.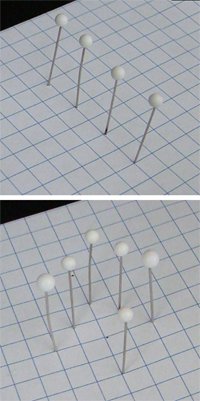 To get uniform huskings, use a grid or graph paper so you know where to place the pins every time.
< --- pins in a straight line for Straight Husking
<--- pins in a fan shape for Fan Shaped Husking
          You can also purchase a A quilling husking board
.
< ---   This is a device with peg holes arranged so you can make straight or fanned husking.