Star Wars Origami
Based on the number of diagrams available, there is a definite group of people who like origami and Star Wars. Noteworthy are the web sites Star Wars Origami by Philip Schulz, and Star Wars Origami by Chris Alexander. Both web sites have the same name: need we say more? As well, there is Martin Hunt's alternate spelling web site starwarigami.
Star Wars Origami: Make it So!
Looking for Star Trek origami? Go here for Star Trek stuff
Star Wars Diagrams
AT-AT (P Schulz)
AT-ST (RN Sanchez)
Banthan: 1 , 2 , 3 , 4 (C Alexander)
Boba Fett: 1 , 2 , 3 , 4 , 5 (C Alexander)
Colonial Viper (S Sugamata)
CP3O (R Glynn)
Darth Vadar: 1 , 2 (Kenji & Hikaru?)
Destroyer Droid (P Schulz)
Gungan Sub , video (M Hunt)
Imperial Shuttle (R Sabat)
Imperial shuttle Tydirium (S Sugamata)
Jar Jar Binks (G Sturm)
Land Speeder (Sugamata)
Millennium Falcon (C Alexander)
Millenium Falcon v3 (C Alexander),
diagram by DeAgostini
Millennium Falcon v1 (P Schulz)
Millenium Falcon v2 (P Schulz)
Milleneium Falcon (S Sugamata)
Millenium Falcon: 1 , 2 , 3 (M Gutman)
Naboo Starfighter , video(M Hunt)
Naboo Starfighter (P Schulz)
Origami Jedi Starfighter (B Creamer)
R2-D2 (P Schulz)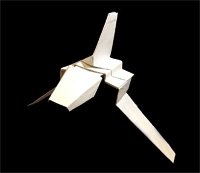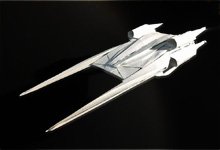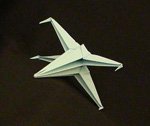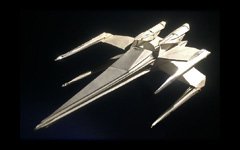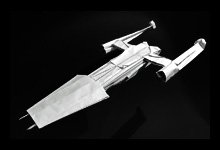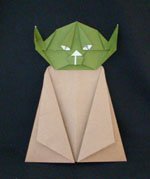 Other Cool Origami Star Wars Stuff
Moleskine has made a commercial which features origami Star War models made with paper. Watch video here.