Origami Fathers Day Crafts
This page is dedicated Fathers Day crafts: some require cutting, some require folding; but all are delightful.

A tie is such a typical Fathers Day gift. Surprise him this year with an origami tie. It's not as expensive as a real tie, and he doesn't actually have to wear it (!)
Origami Tie
(origami-club.com)
     or a
Bow Tie
(R Foelker)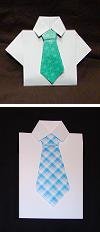 Why not make an origami shirt to go with the origami tie?
Origami Shirt
(ORC)
This shirt is even easier:
Easy Shirt (ORC)
For a Dad who devotes his life to driving the kids all around town, make him an origami van. The van looks great if you glue it onto card stock and make it into a Father's Day card.
Origami Van
(ORC)

Just because Daddy doesn't drive a snazzy sports car, it doesn't mean he can't look cool. Make him a pair of origami sunglasses.
Sunglasses
(origami-club.com)

For those fathers who enjoy fishing, give him an origami boat so that he can imagine being on a lake. You can give him the boat as a stand-alone craft, tape it on top of a gift, or glue it onto card stock and make it into a card.
Origami Boat
(R Katz)
Sailboat
(traditional)

What is better than a relaxing day at the lake? Catching fish, of course. Make Dad a few of these weaved fish. He'll love them. You can string two of them together and hang them by his rear view mirror or, weave lots of them and make a mobile.
Weaved Fish
Origami Fish (T Yee)
Pureland Fish (M Kirschenbaum)
More fish origami here (a little harder to fold):
Origami Fish page