Origami Stars (Modular Origami Stars)
These origami stars, rings and wreaths are great fun to make during the Christmas holidays. Some of them can be made for 4th of July celebrations. Stars are versatile and can be used for almost any party or celebration!
Instructions to make origami stars and wreaths are on two pages. Page 1 has instructions for stars made with one sheet of paper. This page shows origami stars made from multiple sheets of paper; also called modular origami.
One Sheet Stars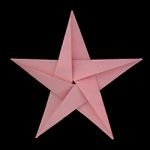 Multi Sheet Stars
Cut Out a Star

Origami Stars Made with More than One Sheet of Paper










---
How to Cut a Star from Paper