Origami Paper Crane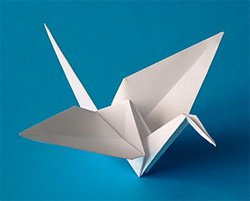 When you say "origami", most people immediately envision the paper crane. This stylized paper-bird is synonymous with the ancient art of paper folding. Why is this? How did this happen? Where did it all start?
The Red-Crowned Crane (Grus japonensis) is one of the largest birds of its species. It is predominantly white with black feathers along the back edge of the wing. When the bird is not flying, it looks like it has a black rump, but it is the secondary wing feathers that are black not the tail feathers. The male cranes have black feathers along its neck and cheeks. Most distinguishing is a patch of red skin on the top of its head, thus the name red-crowned crane. A typical crane can live up to 30 or 40 years, though some have lived in captivity to 70 years of age.

In Asia, cranes are associated with longevity, wisdom, and marital bliss.The Japanese believe that cranes live to 1000 years old, as such, the bird is a symbol of longevity.
In China, it is believed that wisemen and immortals ride on the backs of cranes: they travel to and from the heavens where they attain knowledge and enlightenment. Thus cranes are associated with wisdom.
It is believed that cranes mate for life and both male & female work together to build the nest and raise the young. Thus cranes are used to symbolize a good marriage.
Long life, wisdom, good marriage: this comes together as good luck, good fortune, and/or auspiciousness.
In Japan, there is a belief that if you folded 1000 origami cranes, then your wish will come true. The 1000 paper cranes (called senbazuru) are often strung together and hung on display. This belief was made famous in the USA by the book "Sadako and the Thousand Paper Cranes" by Eleanor Coerr & Ronald Himler. Although the book contained some inaccuracies, it brought recognition to Sadako Sasaki's story. Since then, the paper crane has also become a symbol for peace.
The first book ever published about recreational paper folding was devoted to the folding of interconnected cranes. This book was called Senbazuru Orikata ("Folding of 1000 Cranes") and it was published in 1797.
Even earlier than that, old woodblock prints showed women holding paper cranes; kimonos were decorated with the classic origami cranes; and decorative wood paneling had images of the crane on it. This shows that the paper crane was already quite well known and common in Japan during the early 1700's. [ Woodblock print by Torii Kiyotada (1720-1750)]
The origami paper or peace crane and the things it symbolizes continues to this day. You can find instructions to fold the classic crane, and there are all sorts of variations too. The most famous variation is the flapping bird. It is a little easier to make and it has the added feature of being able to flap its wings.
Fold a crane today!
Traditional Paper Crane
Crane Variations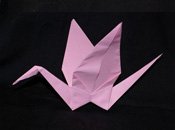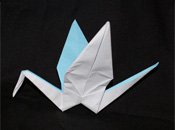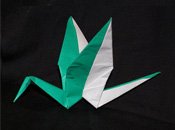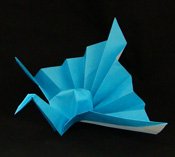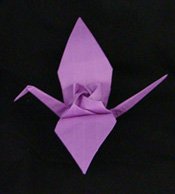 Flapping Bird
Flapping Bird Variations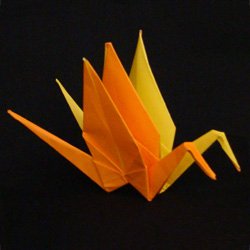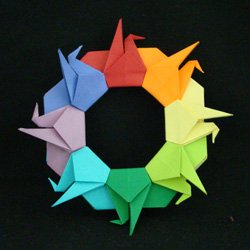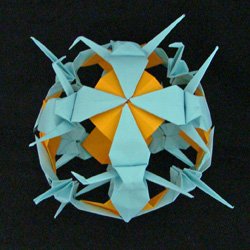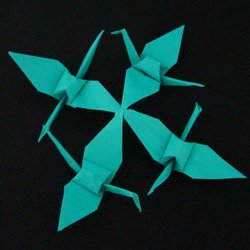 Interesting TidBits about the Origami Crane/Bird
Over 2 million paper cranes were folded as a fundraiser after the March 2011 earthquake in Japan. Thousands of these were used to form a 36′ x 40′ mosaic. See more here
December 2009: Sadako Sasaki's brother, Masahiro Sasaki, donated one of Sadako's original paper cranes to the Tribute WTC 9/11 in New York City.