Origami Christmas
Christmas origami instructions are here for those who are tired of store-bought Christmas cards. Are your kids bored during the winter school break? Want your home to have a cozy-warm feel instead of the shopping mall tinsel? We have the answer: Christmas Origami!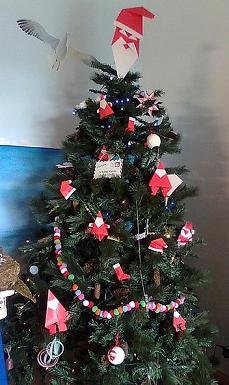 The tradition of decorating Christmas trees with origami models was initiated by
Alice Gray
. Alice Gray was an entomologist by training and, in the early 1960's, she used paper insects to decorate Christmas trees at home and at the Entomology Department at the Museum. The Museum Directors enjoyed the idea so much that they asked Alice to decorate a larger Christmas tree for display in the vestibule of the Museum:
The tree was 25 feet tall. Alice recruited the help of friends, family and origami enthusiasts and managed to decorate the tree to everyone's delight. Since that time, the idea of using origami models to decorate Christmas trees has spread worldwide and has become an annual event in the American Museum of Natural History in New York. Read more here.
[Photo by F Mancini].
How to Decorate an Origami Christmas Tree
One Model: Some people like to decorate the entire tree with the same model over and over again. One common model is the paper crane. This may be because the paper crane is an elegant model familiar to many people. Perhaps it is because the paper crane is a symbol of peace: what better way to express "peace on Earth, good will toward men". In December 2001, the American Museum of Natural History in New York decorated their Christmas tree with 3700 Paper Cranes.
Different Models: Some people like to decorate their tree with different models. How fun to have a tree covered with your personal-favorite origami models. You can encourage children to fold a variety of different models and allow them to trim the tree themselves. Paper ornaments won't break and it will make the tree memorable since they made the decorations themselves.
In December 2001, the Guinness Book of Records recognized the largest Origami Christmas Tree in Holland. This tree was 18 m tall (almost 60 feet) and was decorated with 10,000 origami models. See photo here (scroll down).
Themed Models: Some people, especially cooperations and businesses, will have a themed tree. The American Museum of Natural History in New York uses a different theme each year: