Edible Origami
Finally, origami that you can eat! Some are folded as if they were pieces of paper whereas others are made to resemble origami but are not really folded origami-style.
Examples of Edible Origami
Gerardo G created this Tortilla Origami based on step 3b of Star-Tato from Circle by Melisande.
---
Origami Wedding Cake: In 2009, Marc from Merci Beaucoup Cakes made a fabulous origami wedding cake featuring a crane on top of a two-tier cake. But, he didn't just make one crane, he made two. The second crane was purposely dropped on the floor as a joke. Can you imagine?? Read more
The origami wedding cake was featured on WE tv's Amazing Wedding Cakes. Unfortunately, by Dec 2010, Marc is no longer on the show.
---
Tessellated Cakes: origami tessellations are a special branch of origami which involve folding one sheet into a repeating pattern. Origami tessellations are beautiful structures.
Ilan Garibi has found the secret of making origami-tessellation cakes. He folds Elephant Hide paper into the desired shape, coats the paper with foil, then uses it as a baking dish. The result is a cake the same shape as the mold.
Garibi cautions that you not try this at home because the paper may catch fire or release toxic components. They are tessellated cakes but they may or may not be edible tessellated cakes.
Shown on the left is one molecule of his "Stars in White Night" tessellation. See more in his web site.
---
Math enthusiast and youtube subscriber, Vi Hart, gives you Flex Mex, an amazing lecture in flexahexagons camouflaged as a cooking lesson.
A round tortilla is cut into strips and converted into a hexaflexagon.
Wait - not done! The flexagon is then converted into a hexaflexagonal burrito. Learn to make this Tortilla Hexaflexaogon here.
---
Edible Quilling: Happy Caker from TJ's Happy Cakes made a Quilling Cake which looks simply fabulous. She's not alone though, if you google "quilling cake", you will find many examples of creative bakers who incorporate the age old art of quilling.
---
Origami artist, Marcela Brina, makes delightful Cinnamon Sugar Crisps with an Origami Twist. To do this, won ton wrappers are folded into easy origami shapes, sprinkled with cinnamon sugar, and then baked at 400°F. A treat for the eyes and for the taste buds! See details here.
---
Jellogami:
This origami bird is made from jello-like sheets. The thin sheets of gelatin are not folded into origami birds, rather they are assembled to look like a paper crane. You can add flavoring and food coloring - they are great as cupcake toppers! Instructional video here.
---
Salon du Chocolate has made origami models out of chocolate. Chocolate and Origami - can you think of anything more sublime? Chocolate mouse, chocolate samurai hat, and chocolate crane. [Photo: from cucina testa rossa ]
---

Mandy Weaver uses fondant icing sugar to decorate origami inspired cakes. The decorations are folded from sheets of fondant icing which she rolls out herself. [Photo by G Aharoni]
---

Most commonly, people will fold nori (dried sheets of seaweed) into edible origami models. People are familiar with the nori in sushi and nori can be purchased in Asian grocery stores. Thus, it is not surprising that folding nori origami-style is possible and practiced. Accomplished origami enthusiasts will fold nori into various insects and shock their dinner guests. [Photo: origami cranes made with nori by Christina and Robert (homepage.mac.com/)]
---

Origami Foods have created thin sheets of vegetables and fruits that can be used as food wraps. These sheets are colorful, tasty, healthy, low calorie, and high fiber. Need we say more? It's a great way to encourage kids to eat and a nice alternative to those recipe that do not blend well with nori. [Photo: vegetable and fruit wraps by Origami Foods].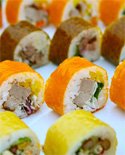 In 2011, Origami Foods re-invented itself as NewGem Foods. Among their products, they have a line of vegetable and/or fruit wraps which they call "OrigamiWraps". These wraps are alternatives to the seaweed (nori) wraps you find in sushi. OrigamiWraps are very colorful and a dedicated folder can probably use them to fold origami too.
---

Developed from the...uh... Evil Mad Scientists Laboratory, you can make Crane Croutons using won ton wrappers. Looks great and tastes great. For more information, go to the Evil Mad Scientists Laboratory web site, or find instructions (plus other kooky projects) in The Hungry Scientist Handbook. [Photo by WH Oskay].
---
Do you know of any more origami sightings? Let us know!
Many of these images are from the internet: they have gone viral without clear indication who is the rightful owner of the photo. Let us know if you want your photo removed from this site.