Origami Foods, Veggie/Fruit Wraps
Origami Foods LLC have created thin sheets of vegetables and fruits that can be used as food wraps. These sheets are colorful, tasty, healthy, low calorie, and high fiber. Need we say more? It's a great way to encourage kids to eat and a nice alternative to those recipe that do not blend well with nori. These edible sheets can be used to make desserts, appetizers, snacks, side dishes, and -wait for it- origami. Read more here].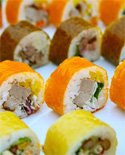 In 2011, Origami Foods re-invented itself as NewGem Foods. Among their products, they have a line of vegetable and/or fruit wraps which they call "OrigamiWraps". These wraps are alternatives to the seaweed (nori) wraps you find in sushi. OrigamiWraps are very colorful and a dedicated folder can probably use them to fold origami too.