Business Card Origami
You're in a meeting, you are getting bored. Business card origami will keep you awake! The world of origami is ever expanding: you can fold a square sheet of paper, or you can fold just about anything: candy wrappers, money, sticky note paper, toilet paper, and yes – you can fold business cards too.
Business Card Ring
Inspired by the work of Mette Pederson. This business card unit is simple but difficult to fold only due to the thickness of business cards.
Paper vs. Business Cards
There are some basic differences between origami and business cards origami.
Shape: many origami models start with a square sheet of paper. In contrast, most business cards are rectangular in shape.
 
Size: commercially available origami paper is typically 6″ x 6″ though they can be as small as 1″ square or as large as 10″ square. Professional origami artists can start with much larger sheets – as large as 13 feet x 13 feet.In contrast commercially available business cards in USA and Canada are typically 3.5″ x 2″.
 
Weight: paper used for origami varies in weight: from light weight kami to the heavier sheets used for wet folding. However, it is safe to say that the card stock used to make business cards is 3 to 4 times heavier than the paper used to fold origami.
 

Because of the above differences, folding business cards into origami models requires special consideration. Simple models with few steps work best because business cards are already quite thick to begin with. Diagrams that begin with a square sheet of paper need to be modified to accommodate a business card's rectangular shape. Lastly, models which use multiple business cards assembled together to form one shape are more dramatic because more cards create larger models.
This type of origami is called modular origami or unit origami.
 
There are many business card origami instructions scattered throughout the internet. Check Malache's web page for an extensive list.

Business Card Origami Diagrams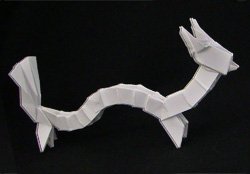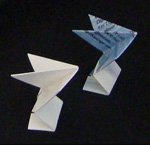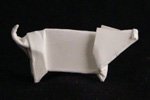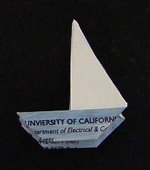 With Cutting
Business Card Origami Holders