Mecho and Ocho: Traditional Origami Butterflies
Mecho and Ocho are origami butterflies. They are famous because they are probably the first examples of representational origami. Previous to these two butterflies, paper folding was (as far as we can tell) limited to:
[Top image: Mecho. Bottom: Ocho]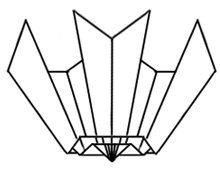 Paper and origami historian,
David Lister
, suggests that Mecho & Ocho evolved from
paper covers
(lids) which cover sake bottles. The corners of the paper lids flare open and look like the wings of butterflies. In time, these paper lids may have evolved into Mecho & Ocho. This is described in Nick Robinson's
Origami Bible
(see
pg 11
for excerpt).
The first appearance of Mecho and Ocho was in the book Kayaragusa (Window on Midwinter) published in 1845. Kayaragusa is a series of booklets about Japanese culture; two of the volumes were dedicated to paper folding. The original manuscript is owned by the Asahi Newspaper in Osaka and very few people have had the privilege to see it. As far as we know, there has been no photocopies made from the original volumes.
[Photo: Sake paper-cover; proposed precursor to Mecho/Ocho. Image from
CDO
].
However, in the 1920's Professor Frederick Starr of Chicago University saw the Kayaragusa and he had hand-drawn reproductions made for him. David Lister who has seen the original Kayaragusa and the hand-drawn reproduction says that it is
an astonishingly exact copy of the original
. Starr's reproduction was forgotten until 1961 when Julia and Martin Brossman found the manuscript among Starr's archived works. [Image from Brossman's book. See
full page
]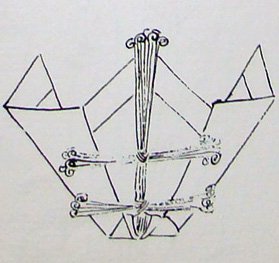 The Brossmans published the work as "A Japanese Paper-folding Classic (Excerpt from the "lost" Kan no mado). It is a limited edition publication with only 500 hardcover copies made. You can get a copy from
amazon
or from
lulu
.
[Note: the 1845 volumes were mistakenly translated as "Kan no mado" instead of "Kayaragusa" thus the Brossmans refer to it as "the lost Kan no mado".]
From these convoluted events, we can infer that, in 1845, there existed two forms of Mecho/Ocho; one pair is made from the Ogasawara-style of paper folding. The second pair is unnamed so it may be the common form from that era.
Although there are quite a few images of Mecho & Ocho in woodblock prints and in books, there are very few diagrams or instructions on how to fold Mecho and Ocho. The only known diagram are from "Wrapping Origami" by Yoshihide Momotani (1993). Shown below are the instructions on how to fold Mecho & Ocho as described by Momotani. Click onto the image to see diagram.
[
Woodblock prints
from 1800's showing Mecho/Ocho.]
These two butterflies are described in Momotani's "Wrapping Origami" (1993). Again, notice how Mecho has the outermost flaps folded back whereas Ocho has outer flaps folded forward.
These two butterflies are also described in Momtani's "Wrapping Origami". Notice that both male and female have the outermost flaps folded forward. The difference is in the central regions. Unlike the above models, these two butterflies start with a
waterbomb base
.
– – – – – – – – – – – – – – – – – – – – – – – – – – – – – – – – – – – – – – – – – – – – – – – – – – – – – – – – – – – – – – – –
The above instructions show how to fold traditional versions of Mecho/Ocho. Today, there are many variations and in some cases, there is a mix-and-match of the different types of paper butterflies.

You can buy a pair of Mecho and Ocho for about $20 (see
here
). Mecho and Ocho are used to decorate sake bottles primarily in wedding ceremonies. Mecho & Ocho is also used in this
coming of age ceremony
.
For wedding ceremonies, the paper butterflies are not presented as plain paper butterflies. Instead, they are accompanied with mizuhiki. Mizuhiki is an artform where string or cord are wrapped and knotted into shapes and patterns.
The Wedding Ceremony Sake Set shown on the right shows the butterflies attached to sake serving kettles (choshi) which look like tea pots. In contrast, similar models are attached to sake bottles which look like decanters during New Year celebrations; see
here
.
[Sake set for wedding ceremony. Photo from
here
; a similar set can be seen
here
].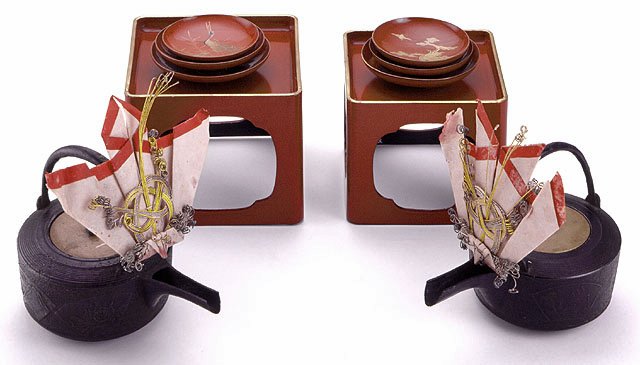 As mentioned above, Mecho and Ocho are historically important because they are the first known examples of representational origami. These paper butterflies are only used in formal ceremonies. If one was to decorate a wedding party today, one might turn to the incredible array or contemporary
origami butterflies
.
Moth of domesticated silkworm.
Compared to modern origami butterflies, Mecho & Ocho are highly stylized and not very realistic. Indeed, this
web site
suggests that Mecho/Ocho are not butterflies but are in fact silkworm moths.
One cannot deny that the silkworm moth's silhouette is similar to the shape of the traditional Mecho & Ocho. As well, the Japanese did cultivation silkworms for the production of silk so it is not impossible that the origami models represented moths. That being said, almost all other sources refer to Mecho & Ocho as butterflies and not as moths.
Is it an error in translation? We will never know.
Books about Origami Butterflies