Origami Roses
Of all the origami roses and flowers available, the most loved one is probably the origami roses created by Toshikazu Kawasaki. These roses are difficult to fold and origami enthusiasts have dedicated many pages of texts, photos, videos, and tips on how to fold these amazing origami roses.
If you're not an expert paper folder, maybe start with an easier origami flower like the traditional Iris or a simple 4-petal buttonhole flower. If you're up top the challenge, then forge a head and make origami roses!
Origami Flowers
Origami Roses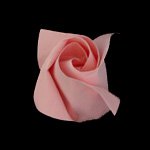 Origami Rose Diagrams
There are many variations from the original diagram. Be patient and click through until you find a rendition that works for you.