Origami Wreath and Garland Diagrams
When it comes to origami wreath and garland, the most famous one is probably the Leaf and Berry Wreath by Anita Barbour. It is made with a single sheet of paper (left). But with a bit of imagination, you can turn any ring into a holiday wreath. For example, consider the wreaths below: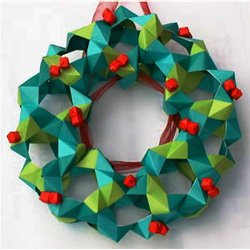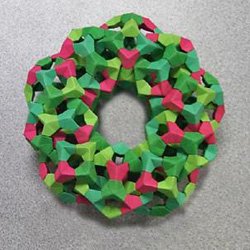 Left: John Horigan converted Tom Hull's PHiZZ-unit torus into an incredible wreath.
Center: Ring of Cubes by Bennett Arnstein, folded by Stephen Jeppson.
Right: And if that's not enough for you, consider the wreath with berries made by Bennett Arnstein. It is made of 240 triangular units arranged into 10 truncated octahedra which interlock to form a ring – wow! (photo by R Gurkewitz).
 
Origami Rings and Wreath Diagrams
Jose Meeusen:
David Petty: (see his books)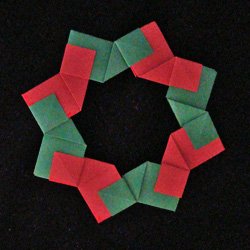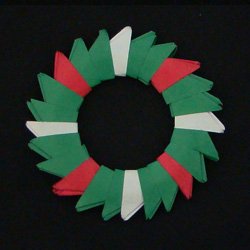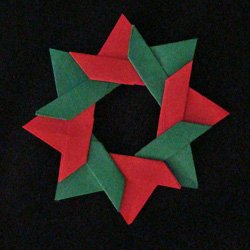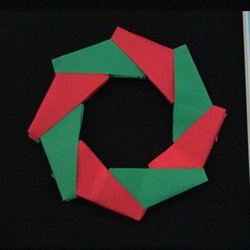 Keep in mind that wreaths are not only for Christmas. Shown on the left is a beautiful floral wreath made in 2009 by
Meenakshi Mukerji
. She used miscellaneous origami flowers she learned in the last 10 years. It's a great way to celebrate spring.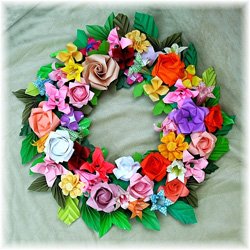 This origami wreath serves yet another purpose. It was made made to commemorate the soldiers who fell in USA conflicts from the Revolutionary War up to the War on Iraq. Read more from the 2010 article
The Great Unknowns
.