Tea Bag Folding: Preliminary Fold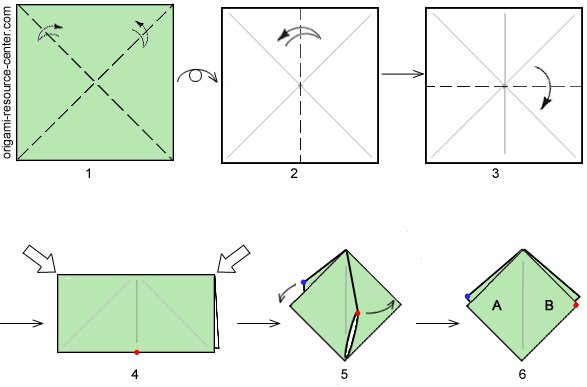 You will need 8 pieces of square paper. Place the sheet of paper with the color-side up. Make a diagonal crease by folding the top left corner to meet with the bottom right corner. Unfold.
Repeat with the other side: bring the top right corner to meet with the bottom left coner. Unfold.
Fold left to right. Unfold.
Fold top to bottom.
Hold the top right and top left corners with your thumb and pointer finger. Gently push the sides in until you get a diamond shape. This is the Preliminary Fold. It is a classic fold in origami.
To make the medallion, place a dot of glue at section A. Slip this under the B section of another tile. Arrange in a circle pattern.
Tea bag folding is a fun way to make greeting cards and decorations.