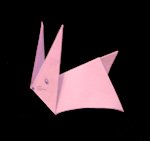 Easy Rabbit
In celebration of Easter, I teach the students an easy origami bunny rabbit. This model is delightful and children will surely go home and populate their entire home with more and more rabbits.
---

Origami Rabbit Head
This is another easy origami model. The rabbit head is quite stylized, though children don't seem to mind. The paper gets thick, so start with light weight-paper such as origami paper.
---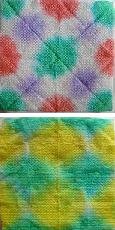 Shibori: Tie-Dye Napkins
Shibori is a complex method of "shaped resist-dyeing" of fabric into elaborate patterns. Here, the process is simplified to tie-dyeing paper towel napkins. This craft doesn't involve paper, but does involve folding paper towels origami-style. The results are absolutely beautiful and kids love it. My secret? I save the dyes from Easter Egg decorating and bring it to school for simple-shibori.
---
Origami Tulip by Michael LaFosse
There are many, many origami flowers available on the internet. Some are quite challenging while other are quite easy. I start the children with an easy "flat" flower created by Michael LaFosse. Although this model is not 3D, it does stand upright like a picture frame.
LaFosse is a very accomplished origami artist who is well respected in the origami community. He has published many books geared towards school-aged children. His Origami Tulip is very well suited for this age group. See book review of his books here.
---