---
Kirigami Paper Snowflake
Kirigami paper snowflakes are a classic. Most adults who have been educated in the western world will have made at least one paper snowflake in their lifetime. Children old enough to use a pair of scissors will probably love making paper snowflakes. In fact, the most difficult part of this craft is getting them to stop making snowflakes.
Keep in mind that real snowflakes have six-fold symmetry, thus it is best to fold the paper into six sections (fold in half, then fold into thirds). For young children who cannot fold a sheet of paper into sixths, you can:
allow the children to fold the paper in half themselves and then you fold into thirds (produces better results) or
allow the children to fold the sheet into fourths (fold in half and then in half again). This gives them more independence but the designs will be simpler.
---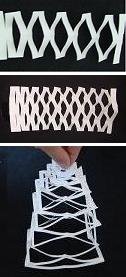 Kirigami Stretchy-Decoration
This paper craft is almost like magic: it can convert a stiff sheet of paper into a stretchable, springy toy. Kids love it, and if you present it right, it can really makes them think of untold possibility. How can you stretch a piece of paper twice its original length? Is it magic? Or is it kirigami?
Things to note: this craft is easy but students need to pay attention and work carefully. When cutting the paper, be sure to cut as close to the edge as possible without cutting the paper into bits and pieces. Results look better if the cuts are the same distance apart.
Another great thing about this stretchy decoration is that older, more skilled children can try variations of the same theme. These can be quite stunning.
---



Paper Chain of Dolls

In honor of Martin Luther King day, I teach the children to make a chain of paper dolls. This craft is familiar to many adults and will delight children of all ages. You can have boys holding hands, girls holding hands, or boys and girls holding hands. Hey, for very advanced students, you can even have a circle of friends holding hands.

Allow the children to color the paper dolls with different ethnic clothing to signify friendship among cultural diversity.
---
Chinese Paper Lantern
Chinese New Year follows a lunar calendar – that is to say, new year falls on the day with a new moon. Chinese New Year is usually in late January or early February. This is a great opportunity to introduce the classic Chinese Paper Lantern. These lanterns are easy to make and look very festive when done in bright colors. Children can make them and carry them along in a parade or the lanterns can be strung together to make decorations.
  • get instructions for Chinese Paper Lantern
---