Valentine Pop-Up Card
I usually show the children how to make a Valentine Pop-Up card first. This way, they can give the card to someone special. If the students have already made the pop-up cards in October (Halloween Pop-up card) and December (Tree Pop-up card), then they will be able to make this Valentine pop-up card easily. The only thing to be careful of is to avoid cutting the entire heart off the white sheet of paper. Remember to leave a small notch uncut so the heart remains as a pop-up and doesn't turn out to be a cut-out.
For those who enjoy a bit of fun, consider making pop-up lips. The kids can then write a message coming out of the lips such as "Will you be my Valentine?"
Origami Heart
There are many origami hearts on the internet: some easy and some hard; some simple and some complex. The three origami hearts below are easy to make and are achievable for school aged children. Try them yourself to see which you like best. Or you can fold all three!
"Easy Heart" uses a square piece of paper whereas "My Heart" and "Origami Heart" begins with a triangle. The good part of the latter two is that you can make two hearts. Two hearts from one sheet – now that's profound!

Woven Heart Baskets
Weaved paper baskets are classics! If you have never made one, give it a try: it can be a bit tricky so expect to make a few mistakes here and there. But they're not hard to fix and soon enough everyone will have a quaint basket in which they can store their chocolate hearts.

Has Valentine's Day come and gone already? Convert this project into a pre- St Patrick's Day project by using green and white paper.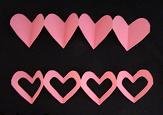 Paper Chain Hearts
The last craft for February is a paper chain made in the shape of hearts. If you cannot bear to see another paper heart, convert this project to a paper chain shamrock.
• get instructions for Heart Paper Chain
• get instructions for Clover Paper Chain