More Dollar Bill Origami
Here's more dollar bill origami since people love it so much! This page shows some unique dollar bill origami folds. Diagrams are not available on the internet, so you will need to buy a book. Even so, many of these folds are not diagrammed anywhere, so you will need to tinker with your own bills to figured it out or attend an origami conference.
In the OrigamiUSA Convention, 2005, Stephen Weiss showcased over 40 dollar bill origami models. He is one of those talented and prolific folders who is dedicated to this
genre of origami
. [Photo from
G Aharoni
]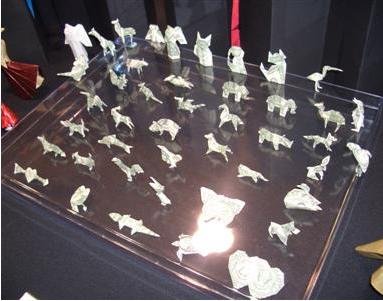 Click Here to see Larger Photos
The OrigamiUSA 2007 convention showcased more innovated dollar bill origami. Shown here is a $2 spider by
Won Park
. Won has done some incredible $models including a $praying mantis, $stegosaurus, $Pegasus and more. Click the $spider to see more $origami from the 2007 OrigamiUSA convention.
[Photo by Andrew Hans].
The OrigamiUSA 2009 convention brings out more outstanding dollar bill origami. Top of the list includes the dollar bill Star Wars models by Won Park. Wensdy Whitehead shows an innovative and versatile style of dollar bill folding while TJ Norvell uses money to fold various polyhedra. Old friends such as Sy Chen and Stephen Weiss continue to provide quality $origami models. Click the photo to see more $origami from the 2009 OrigamiUSA convention.
The original name of this model is
"Magic Rings"
created by Thoki Yenn. It is also called "Umulius Rectangulum" and it uses 6 pieces of paper. If you make the model with 3 colors of paper, it becomes an optical illusion showing three (seemingly impossible) intersecting rectangles.
Andrew Hans was the first to make a $Umulius. He can also make a modified umulius which has 2 interlocking rectangles; both can be seen here. Jim Cowling also makes a $Umulius and it uses only 3 dollar bills. Some photo instructions can be found here. [Photo: $Umulius by Andrew Hans]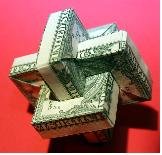 People who like to leave $origami as tips are always looking for ways to fold interesting models with different number of bills. This $flower was originally created by
Robert Lang
and uses 3 dollar-bills. The top side shows a 6 petaled flower and the bottom side shows George Washington! This leaves a nice $3 tip after a $20 meal. Diagram
here
. [Photo: $Flower by Robert Lang]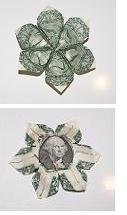 Although $origami is most commonly given as tips
T
o
I
nsure
P
rompt
S
ervice, they are also given as tokens of appreciation, wedding presents and graduation presents. What better model to give than this certificate and graduation hat created by
Sy Chen
? Diagram for $Mortarboard available in OrigamiUSA 2003 Origami Collection by OrigamiUSA. Diagram for $certificate not available. [Photo: $Scroll and $Mortarboard by S Chen]
Marc Sky makes it his business to fold $origami – seriously. His
web site
sells $origami that are of his own creation plus models that are modified from other origami artists. In addition to your usual puppies, kittens, & bears, Marc also represents contemporary characters with money: Dementors from Harry Potter, Yoda and Darth Vadar from Star Wars, and the infamous Ear Leech from Star Trek2! [Photo: Mother Swan (created by S Weiss) and Baby Swans (created by M Sky)]