Money Origami Videos
This page is dedicated to money origami videos. There are many videos available on the internet and origami is commonly featured in advertisements too. Some of the videos below are fun to watch while others are instructional and very useful. Generally speaking, the best way to learn origami is to have someone sit beside you and show you how it is done. Failing that, traditional origami diagrams with arrows and lines seem to work well. Videos have mixed reviews: some people like them because they are so visual. Other people don't like the pause-and-play aspect, as well, some videos are poorly made. Videos and printed diagrams work well together as a team because you can use the videos to help you through the challenging parts. Some steps are difficult to show on a flat piece of paper but the process is easily demonstrated through video.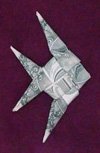 Money Origami Videos used in Commercials
A Lexus commercial highlighted the thousands of letters they receives regarding their excellent services. The letters are folded into origami polyhedral shapes and hung from the ceiling. Depending on the angle, the origami polyhedra create the shape of a sedan or the company logo (making of).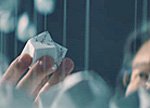 Voya Financial
makes a series of adorable videos featuring an origami squirrel and a rabbit. These two characters are seen scurring about the set. The two 30 seconds commercials require 65 people, some working 12 to 16 hour days.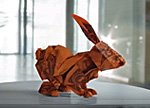 Hurrican Sandy by sandy.AdCouncil.com: two videos showing various dollar bill origami models some which appear to be composite work. Includes a hand, a lion, a coffee mug, a bed, hammer & nail, house, airplane, shopping bag, stethoscope, & baby bottle. See videos
here
and
here
(30 sec each).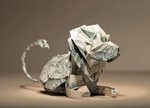 Bank Coop Evolution
by ruflanz: watch origami-style evolution from tadpole -> frog -> lizard -> gorilla -> man. All done with Swiss money and a little help of a computer. (45 sec)
Webster Five
by lemacedo2010: various dollar bill origami featured in this Webster Five commercial. Models shown include: cowboy on horse, light bulb, buildings, hands/arm, umbrella, and a smile. Origami by Joseph Wu. (32 sec)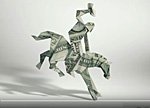 Touchmark National Bank
by SteveHaviland: nicely folded $ origami used in yet another bank commercial featuring cube, diamond, bull, shirt with tie, butterfly, boat, and $ sign. (32 sec)
A380 Aircraft: Flash animation using custom bank notes to fold money airplanes. Though artificial and obviously not real, still very nice to see.