Money Xmas Tree
by Clay Randall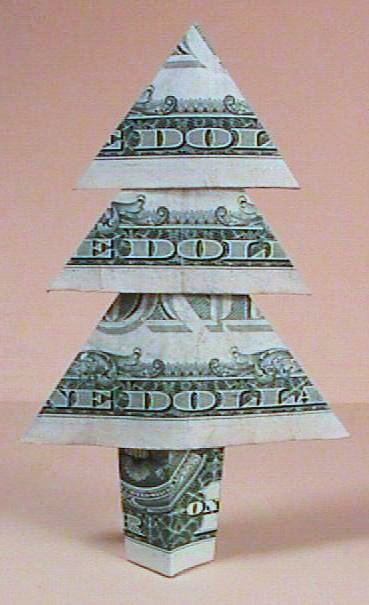 This dollar bill Christmas tree is by Clay Randall and used to be found on this web site: http://members.cox.net/crandall11/money/tree/
But this site is no longer active and we have captured the image and reproduced it here. Please contact us if you are the rightful owner of this diagram and wish for it to be removed. Otherwise, thank you for sharing your talent.
Money Xmas Tree Instructions
Okay, this isn't the greatest, but I get a lot of requests for it, so here goes. This is as attractive as those pine scent cutouts you see hanging from people's rear-view mirrors and apparently as popular.
I'd suggest that you look through all the instructions before attempting to follow along – it will give you a better idea of why you are doing specific things, and how these affect the final appearance
---

Start by folding exactly in half lengthwise so that the reverse face is outside. (The green of the greenback is the right color for the tree.)
---

From the left-to-right center, fold one corner under at approximately the angle shown. This will be called the side fold, and will appear later in these instructions.
---

Fold the opposite side under in the same way from the other side (another side fold). The triangle formed on the upper layer is all that is going to be showing (from the front) when we have completed this piece
---

Fold one of the two flaps even with the bottom edge of the bill over the triangle as shown. I will refer to this fold as the bottom fold, and will refer to it in the next step.