Money Valentine
by Clay Randall

This Money Valentine heart is by Clay Randall and used to be found on this web site: http://members.cox.net/crandall11/money/valentine/
But this site is no longer active and we have captured the image and reproduce it here.
Please contact us if you are the rightful owner of this diagram and wish for it to be removed. Otherwise, thank you for sharing your talent.
Money Valentine Instructions
Okay, this one is terribly simple, but it comes in handy at times.
As with all these designs, try to start with a relatively clean, crisp bill. It will go much easier. All folds should be sharply creased. It helps to go over the fold with a fingernail on a flat, hard surface.
(I used a Casio QV-10A digital camera to get the images. I've tried to reduce the resolution of the JPEGs to the very minimum required to minimize your download time, but it is very graphics heavy.)
---
Start by folding the bill exactly in half lengthwise two times.
---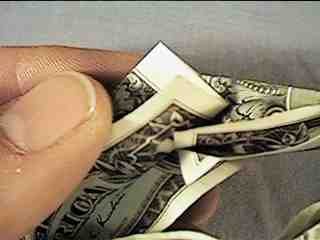 Wrap the bill around in a loop, and insert one end into the other as shown.
---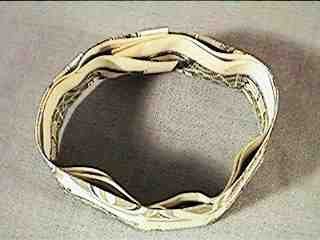 You want to have about one third of an inch overlap. (About 1 cm for some of you.)
---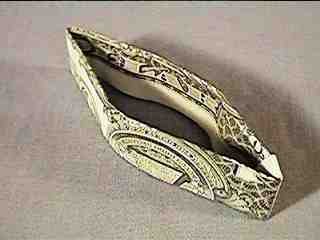 Fold as tight as you can in the middle of the overlap. This keeps it from slipping apart. Close the circle and fold at the other end. The fold opposite the overlap will be reversed (as shown in the next step), but it helps to make the whole thing symmetrical.
---
Reverse the fold opposite the overlap. A small quartering fold at the two tips (as shown here on the bottom) will help to keep the two points from unfolding.
---
What can I say? Just work with the thing until it looks like a valentine to you.