Money Spider
by Clay Randall
This dollar bill spider is by Clay Randall and used to be found on this web site: http://members.cox.net/crandall11/money/spider/
But this site is no longer active and we have captured the image and reproduce it here. Please contact us if you are the rightful owner of this diagram and wish for it to be removed. Otherwise, thank you for sharing your talent.
Money Spider Instructions
As with all these designs, try to start with relatively clean, crisp bills. It will go much easier. All folds should be sharply creased. It helps to go over the fold with a fingernail on a flat, hard surface.
The spider requires five bills: four for the legs, and one to wrap the body.
(This is the first one of these I've put up with this type of image. I used a Casio QV-10A digital camera to get the images. I've tried to reduce the resolution of the JPEGs to the very minimum required to minimize your download time, but it is still quite graphics-heavy.)
---

Start by rolling up four of the bills into tight tubes (as explained here), then fold each one in half end-to-end.Then fold the remaining bill exactly in half lengthwise three times.
Now you have the pieces.
---

Take each of the four leg tubes and drape them over the flat folded bill near the end. As shown, leave a little bit hanging out the end, as seen to the left in the picture.
---

This is a close-up of the four legs draped over the flat folded bill. While holding the leg ends tightly together, tightly wrap the flat bill around the whole thing one and a half times.
---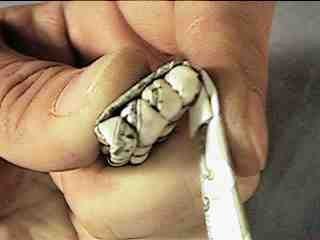 This picture shows the flat bill wrapping over and trapping the end poking out from the left on the picture above. Make sure that this wrap is very tight, that the legs are squeezed tightly together, or you won't be able to make the body stay together (described later).