Mizuhiki in Relation to Noshi

Mizuhiki is the art of knotting cord into a decorative element. Mizuhiki has nothing to do with origami but it is related to noshi.
Photo: examples of noshi with mizuhiki.
In Japan, noshi is a folded piece of paper which you attach to a gift to confer good luck and auspiciousness. The noshi is held together with a strip of paper or with a mizuhiki. Thus, this page about mizuhiki is an extension on the page about noshi.
Mizuhiki can be knotted to form 3 dimensional sculptures such as dragons, birds, and trees. It is also made into accessories such as hair ornaments or
brooch
.
When used with noshi, mizuhiki is knotted as a bow or as a loop; its function is to look beautiful and to keep the noshi from unraveling.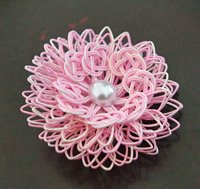 Mizuhiki strings are made of paper. The strings are treated with a watery paste so they harden into a cord ("mizu" means water or watery). A dye is added to the paste to give the cords color. The colors of the cord and the method of knotting the cord has symbolic meaning. Photo from
here
Gold and silver cord signifies a high class/quality event.
Red and white signifies a happy, good-luck event.
Black and white cord is used for funeral or burial ceremonies.
In all cases, the colored cord (red, black, gold) is on the right side and the white (silver) is on the left; for example, see below.
There are three basic types of knots:
Musubikiri: this knot is tied tightly and it not meant to be untied. This symbolizes an event which you wish to do once and not do again. You would use this for a wedding or for a funeral since these are once-in-a-lifetime events. The cords would be dyed black & white for funerals.
Hanamusubi: this is a butterfly knot which can easily be tied and untied. This type of knot is used for celebrations which can occur again and again such as birthdays or job promotions.
Awajimusubi: this knot is loosely wound into loops. If you pull at the ends of the cord, the loops will be smaller and closer together. This type of knot is used to symbolize "growing together"; for example, in a business partnership or an engagement. Knot can be used for sad events such as get well wishes because it involves growing better.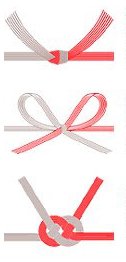 Mizuhiki is often arranged into loops because loops are often considered good luck. [Loops are round, smooth, and they come "full circle". These are considered good attributes as compared to jagged/rough things with open-ends that don't close properly.]
Cylindrical objects are bound with mizuhiki with one loop whereas flat packages use mizuhiki with two loops. Wedding gifts often have two or more loops. In funerals, the loops are deliberately cut to give jarring ends. there is nothing lucky about being dead.
There is much to know about Japanese culture and tradition. It is advisable that you consult someone in the know so you don't accidentally use the wrong kind of mizuhiki at the wrong time.
Read about Noshi
History of Origami
Home Page
more Origami Instructions
Site Map