Formal Mecho is a traditional origami butterfly often used in wedding ceremonies. Mecho is the female butterfly and Ocho is the male butterfly. These paper butterflies adorn sake bottles or sake serving kettles (choshi) during traditional Japanese weddings.
Mecho and Ocho are rarely seen except in formal ceremonies; however, these two butterflies are historically important since they are the first examples of representational origami.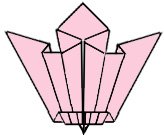 This information is derived from "Wrapping Origami" by Yoshihide Momotani (1993). Momotani gives instructions for 3 pairs of paper butterflies:
• Classical Mecho & Ocho (from Kayaragusa)
• Formal Mecho & Ocho (Traditional), and
• Regular Mecho & Ocho (Traditional)
The terms "formal" and "regular" will be used to maintain consistency.
Instructions to Fold the Formal version of Mecho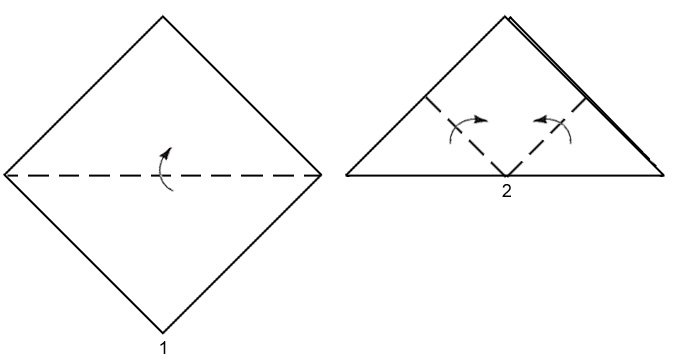 4. Fold only the top layers. Allow the back flaps to swivel towards the front.


9. Allow the back flaps to swivel towards the front.

Mecho (female)

Ocho (male)
Evidence from the internet: If you do a google search for "sake bottle decoration" you will find many examples of Mecho, Ocho and other celebratory folds.
Some online stores sell sake serving kettles. On the kettles are two paper decorations which look almost exactly like formal Mecho and Ocho as described above.
Similar paper butteflies are also available from
amazon.jp
. In both cases, Mecho (on the left) has an unusual feature in that the red border is not visible near the center of the model. It is not clear whether this is due to the way the paper is patterned or if this indicates a different folding methodology.
Another visible difference is that these modern-day paper butterflies stop at step 7. This causes the tips of the wings to be closer to the body of the butterfly. In contrast, the formal Ocho and Mecho described above have the wing tips pointing away from the body of the butterfly. Nevertheless, it is encouraging to see some of the old ways preserved in present day Japan.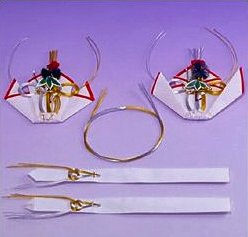 Books about Origami Butterflies
Butterfly Origami by Roman Diaz
Butterflies in Origami by Nick Robinson
Easy Butterfly Origami by Tammy Yee
Origami Butterflies Mini Kit: Kit with Origami Book, and Instructional DVD by LaFosse and Alexander
See books with origami butterflies