Formal Mecho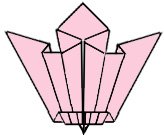 Formal Mecho is a traditional origami butterfly often used in wedding ceremonies. Mecho is the female butterfly and Ocho is the male butterfly. These paper butterflies adorn sake bottles or sake serving kettles (choshi) during traditional Japanese weddings.
Mecho and Ocho are rarely seen except in formal ceremonies; however, these two butterflies are historically important since they are the first examples of representational origami.
This information is derived from "Wrapping Origami" by Yoshihide Momotani (1993). Momotani gives instructions for 3 pairs of paper butterflies:
• Classical Mecho & Ocho (from Kayaragusa)
• Formal Mecho & Ocho (Traditional), and
• Regular Mecho & Ocho (Traditional)
The terms "formal" and "regular" will be used to maintain consistency.