Origami Furniture, Architecture & Sports
There is a variety of origami furniture – mostly chairs and tables – available for purchase. Some are made from cardboard while others are made with metal or plastics and are folded origami-style. There are many buildings and living spaces which are origami-inspired. More recently, we have sports equipment constructed with origami influences. Origami, the art of paper folding, provides many ideas which can be used at home and at play but the one common element in all these products is space. Origami allows things to be more efficiently stored, packaged, and transported.

Furniture

Living Spaces

Sports
---
Origami in Sports and Play
To solve the problem of large kayak in small apartment, Anton Willis developed Oru kayak, a foldable kayak which can be folded into a tidy carrying case. The Oru Kayak takes 5 minutes to assemble into its full size of 12' long by 25" wide by 13" high. It floats, it rolls, and it can withstand 20,000 folds/unfolds. Cost is $850, scheduled for release in summer of 2013.
---
Origami Inspired Living Spaces
June 2014: Patkau Architects from Vancouver, British Columbia, created a free-standing structure by making a single fold in a sheet of metal of dimensions 5′ x 12′. If the metal was large enough, it could be a shelter or pavilion. Their One Fold project was inspired by paper artist Paul Jackson's One Crease technique.
This prototype won the 2014 Research & Development award from the American Institute of Architects.
---
September 2010: Tine Hovesepian from the School of Architecture, University of Southern California developed an origami shelter made of cardboard. This structure is suitable as a temporary outdoor shelter for victims of natural disasters such as an earthquake or a tsunami. These cardboard structures can serve as living spaces for the homeless.
Though made of corrugated cardboard, these origami shelters are surprisingly sturdy, and are water & flame resistant. They are relatively inexpensive to make, and the units can be collapsed flat for easy storage & transport. Much nicer than the cardboard homes found in back alleys. First seen here.
---
Origami Furniture


Designed by Vincenzo Tanassi, these "Piega" corrugated cardboard chairs have colorful round seats and an overall octagonal shape. Eco-friendly and efficient, they can be folded flat for easy storage. Approx $100 from Chair Factory.
---
Inventor Douwe Jacobs teamed up with industrial designer Tom Schouten to create the Flux Chair. Flux being a union of "flexibility" and "luxury".
Having started with small, paper models, this team has now scaled up to full-sized, functional chairs. Along the way, the Flux Chairs have been showcased in Europe, won numerous awards, lured the interest of financial investors, and will be available online in March 2011.
Comes in a variety of colors with colorful cushions and a wall-mount option. See video or go to their web site here.
---
This origami-inspired table lamp looks like one wise-owl. It is made of unglazed porcelain. In the day time, the lamp is eggshell-white, but at night it gives off a warm glow. Was $53 at PlasticLand.
---
Alexander Brink and Antti Pulli (design students at the Aalto University, Finland) created a foldable, cardboard chair which they call "yksi" (means "one" in Finnish). It is made from a single sheet of carboard which you can fold into a functional chair. Some areas of the outer cardboard are removed exposing the inner undulations – these sections are the crease joints where the cardboard folds. First seen here. Pulli's web site here.
---
Cardboard chairs are surprisingly sturdy. They are light weight, shipped flat, and then assembled on-site. Instructions for kids' cardboard furniture are free to download thanks to NE Stäubli.
photo from foldschool.com
---

Fumi Ikeshima from Iowa State University made an origami chair by gluing together 35,000 triangular units. These triangular units are the same units used in Golden Venture Folding.
---

Another interesting origami furniture is the pleated chairs designed by Chishen Chiu. These chairs expand and compress like an accordian. They are reminiscent of a paper folding style called troublewit.
read about troublewit here.
photo from flexiblelove.com
See video here
---

Fuchs+Funke Industrial Design has made a chair that folds up quickly and easily like a cardboard box. A clean design that is light weight (only 2 kg), easy to assemble with no tools, looks good, and is fully functional. Why can't all furniture be this easy?
---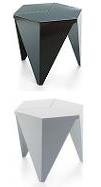 This table is made by folding a piece of aluminum in an origami-like fashion. It was designed by Isamu Noguchi and is formally called Noguchi's "Prismatic Table". It has a hexagonal top supported by 3 legs. Imagine placing your origami models on top of this origami table, wouldn't that be a conversational piece! Not to mention, it costs about £262.
---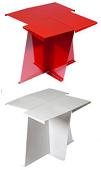 Here's another piece of origami furniture: it's called "Origami Side Table". It is made of laser-scored steel. There are two pieces that fit and lock together to make a neat little side table. The two pieces are cut from a single sheet with no waste. It was designed by Jaime Salm and Young Jin Chung and sells for about $185 USD.
---
Do you know of any more origami sightings?
Let us know
!
Many of these images are from the internet: they have gone viral without clear indication who is the rightful owner of the photo. Let us know if you want your photo removed from this site.