Origami Kitchen Stuff
 
This origami kitchen page describes things found in the kitchen that have an origami theme; mostly kitchen gadgets.
---
Going to a dinner party? Why not make an impression by bringing a bottle of wine in an origami inspired wine tote. This wine bottle carrier is made of neoprene (the material used for wet suits) so it can insulate your wine and keep it safe. When not in use, you can compress it from 18 inches tall to 6 inches tall. Available in a variety of colors from amazon.com. Don't worry, it's reusable.
---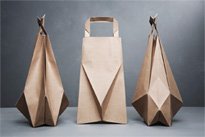 2010: For those of you who bring sack lunches to work or school, check out these origami brown paper bags designed by Ilvy Jacobs. Titled "Graduation Collection Foldbags", these paper bags are functional (notice the handles!) and classy. See more here.
---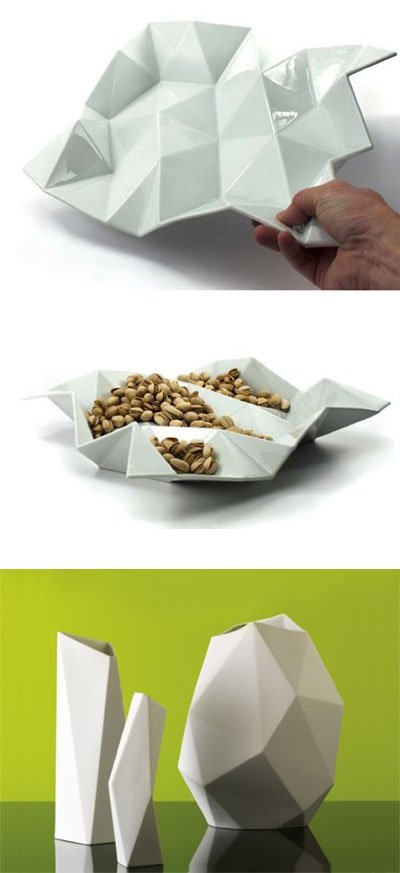 This seemingly normal serving tray is actually a porcelain version of a crease pattern in the process of being collapse into an origami model.
The mountain & valley folds offer space for different types of snacks and the tray itself offers material for speculation. What origami model is that anyway? Could it be folded into one of these porcelain Rosenthal Vases?
Created by Berlin designer Achim Haigis; first seen TrendHunter;
serving tray available from www.fitzsu.com for $160.
---
2008: This is a finger-guard pot holder in the shape of fortune teller (cootie catcher or salt cellar). Silicone, heat-resistant, and fun to use too. First seen in thekitchn.com. Origami kitchen stuff can be fun and practical.
---

Cute Origami Crane Soy Sauce Dispenser are no longer available however, they can sometimes found in Ebay. Approx $10
---

Stylish chopstick rests from amazon.com. Chopstick rests are decorative tableware items: place your chopsticks on top of the porcelain cranes so they stay clean. It's one-of-a-kind, that's for sure.
---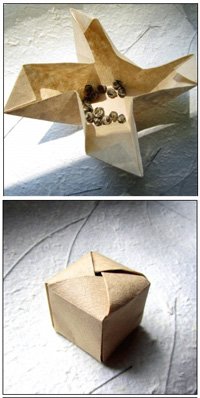 2011: Philip Chapman-Bell created this Jasmine Tea Cube which can be used to hold tea leaves or pearls. The container comes as a cube (made with square filter paper) or as a ball (made wtih round filter paper).
The best part of it is that the containers will actually hold the tea leaves within as the tea is seeped in hot water. Not commercially available but you can make one yourself with crease patterns provided on flickr. Design created in June 2010. Photos taken in June 2011 by Rebecca.
---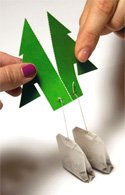 2010: If you love tea, check out this "Christmas Tea" tree designed by a Croatian pair named Mint. Tea bags are stapled to tree shaped tabs. The tabs can be hooked onto the lip of the cup so it prevents your tab from falling into the hot water. Moreover, the Christmas tree tabs are cut in half, each half attached to its own tea bag. The concept of two halves "encourages people to consume a hot beverage with a dear person". The design won the Core77 Notable Award, 2011. See how the Christmas Tea works.
---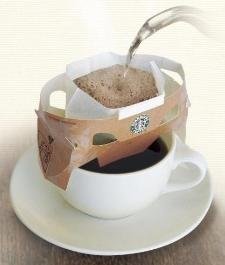 2010: Starbucks has unveiled Starbucks ORIGAMI® Personal Drip™ coffee: a single-use, disposable, drip-coffee system which unfolds and sits ontop of a cup. Pour water, wait for it to percolate through and enjoy. Apparently this system is designed to invoke "the artistry and hand-crafted nature of Japan's ancient art of origami". First seen in businesswire.com.
---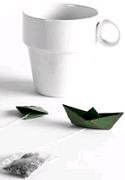 This "Curious George" sailboat tea bag brings back good memories of days gone by. Easy to use, great to see. Not commercially available. Designed by Elisabeth Soós; first seen here.
---
2009: Talk about serenity: lovely tea bags in the shape of origami birds. Designed by Nathalia Ponomareva of Russia, not commercially available.
---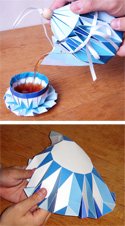 2008: Yuya Ushida from yuya vs design made this tea set with paper. Each piece is made with a single sheet of paper. They hold water, they look great… definitely amazing origami kitchen stuff!
---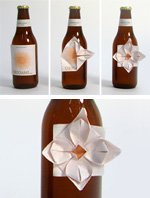 2006?
"Origami Lager" was developed by industrial designer Clara Lindsten. The label on this beer bottle can be folded into an origami water lily. So instead of peeling the the label off a beer bottle, you can now elegantly fold it into a flower.
---

2005 The design for these textured beer cans were inspired by Koryo Miura. The surface of the can is initially smooth, but when opened, the can acquires a indented pattern of repeated diamonds. Beer cans produced by Kirin Brewery Co in 2001. Photo from www.toyo-seikan.co.jp/.
---
This video about parchement paper wrap used in microwaveable seafood meals has some nice paper artwork including an origami fish complete with scales.
---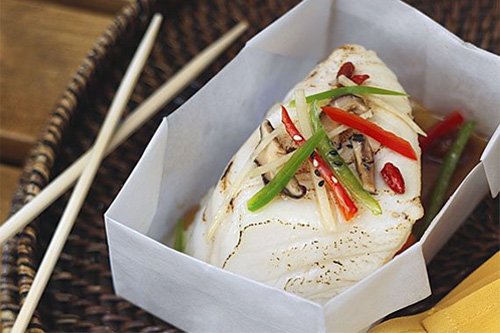 Origami kitchen stuff in action. This video shows you how to make a unique Origami Sea Bass using parchment paper folded into an origami box (magazine box). It even uses 2 oz of "origami sauce". First seen in "The View from the Bay" with head chef, Christopher Yeo.
---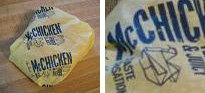 This McDonalds McChicken sandwich wrapper has an image of an origami chicken. McChicken sandwich and origami for only $1! First seen in GrubGrade; instructions to fold this origami chicken here under the name "Super Chicken" by S Kricskovics.
---
Patented Origami, Bowls and Containers by Tomoko Fuse (2001). Versatile design produces a variety of sized and shaped containers from a single sheet of paper. Photo first seen at here. Crease pattern here (Figure 3) .
---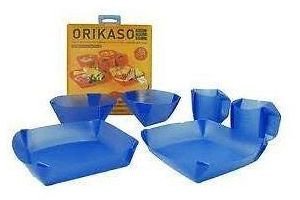 Ori (to fold) kaso (plastic) allows you to fold a flat sheet of plastic into a bowl, a plate, or a cup. Durable and easy to pack, this line of tableware is great for camping. Commercially available origami dinnerware by Orikaso.com. Similar foldable flatware can be found in amazon.com
---
Do you know of any more origami sightings?
Let us know
!
Many of these images are from the internet: they have gone viral without clear indication who is the rightful owner of the photo. Let us know if you want your photo removed from this site.