Miura Inspired Textured Beer Cans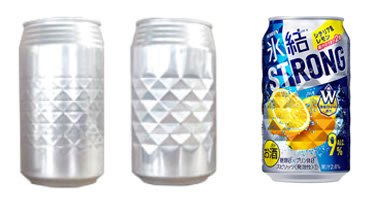 Photo from Box Vox
In 2001, Kirin Brewery Co created an alcoholic drink in which the can had a textured surface. When the can is unopened, the pressure inside causes the can to appear smooth, but, once the can is open, the can buckle to have the classic "repeated diamond" or Yoshimura pattern. The Yoshimura pattern is a specialized case of the Miura fold (famous in origami because it allows a flat surface like a sheet of paper to be folded into a smaller area).
Yoshimaru Yoshimura is a mechanical engineer, Kōryō Miura, is an astrophysicist. The Yoshimura and Miura folds, along with related folds, are used in origami, architecture, packaging, space, and in the creation of textured beer cans.
The Yoshimura pattern is also called the Schwarz lantern or Chinese lantern. In origami, you can crease a sheet of paper so it collapses into the Yoshimura pattern (
video
) or a paper Chinese lantern (
instructions
).