Origami Paper Vase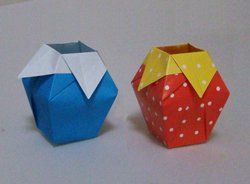 Like other origami boxes and containers, this paper vase is both pretty and useful. The folding sequence looks complicated, but it is actually quite easy to make. Many of the steps are "repeat" steps, so once you factor that in, the process is really not that difficult.
The container is made of paper, so it will tip easily. You will need to weigh it down with decorative pebbles or uncooked rice or beans.
 
Start with the preliminary base.
Fold a square sheet of paper as indicated and then collapse it into a preliminary base.
Rotate the model so the open-end is pointing up.
 
Steps 1 to 4: Follow the instructions as shown above.
Step 5: like turning the pages of a book, swivel one flap from the right-side towards the left. In the back of the model, swivel one flap from left to right. This keeps the model even with two flaps on each side and it allows you to work on the other panels of the vase.
You are repeating the same few moves for all 4 sides of the vase.
Step 15: You have to make an inside reverse fold. To do this, lift the triangular flap up a little, and push the top-left corner in. Follow the creases are made in step 3.

step 16: Insert your finger into the opening and gently expand the sides until the vase is 3D. Use the crease made in step 3 to define the base of the vase.
You will notice that the (white) outer flaps of the vase are not symmetrical – it is not a perfect triangle (see blue vase below). One variation is to lift the flap a little and release the trapped paper underneath. This allows the outer flaps to be a perfect triangle. This variation allows the model to look more symmetrical but the flaps are less secure (see green vase below). The choice is yours: aesthetics vs. functionality.
—> another paper vase
—> Boxes with Lids
—> more free origami
—> go to Home Page
—> go to Site Map