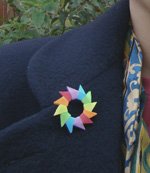 This Origami Ring Brooch is made with multiple sheets of paper. The paper is folded into triangular units which can then be assembled into various shapes. This type of paper folding is called 
Golden Venture Folding
, or Chinese Paper Folding.
To make this brooch, you will need:
14+ sheets of colorful paper,
one ¾" bar pin (bar pin)
glue, and
a clear, waterproof sealant.
Origami Ring Brooch instructions

Cut 14 strips of colorful paper that are 1.75″ long and ½" wide.
Fold them into triangular units according to these instructions.
Assemble these units into a ring according to instructions. Depending on the kind of paper you use, you may need more than 14 units to form a complete ring.

You can assemble the ring so that:
– the same colors are side by side;
– the same colors are on the diagonal to one another; or
– any other combination.
Use a toothpick to apply glue along the inner side of the triangular units where two units meet. If this is too difficult, you can also smear a thin layer of glue directly on the surface of the ring; do this on the face that will be the backside of the brooch. Allow the glue to dry before proceeding. (Use glue that dries to a clear color; read about glues here.)
Coat the ring to protect it from moisture, dust, and dirt. You can brush on a layer of clear nail polish, spray on shellac, or dip the ring in a canister of varnish. Balance the ring on a skewer while it dries. Read about the different choices of finishes and coatings here.
Attach a bar pin onto the backside of the ring; the pin should be attached near the top of the ring and should be positioned so it cannot be seen from the front of the brooch.
Done! Finished brooch is approximately 1.75″ in diameter; allow glue to dry before wearing the origami ring brooch.