Lucky Star Decoration Ideas
Lucky stars are fun to make and are versatile in what they can be used for.  below are lucky star decoration ideas which you can use around the house, in the classroom, or for events like parties.  They can even be used as packing peanuts.  Learn now to make a Lucky Star here.
… or as groovy, beaded curtains.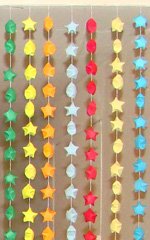 Lucky Stars used as hair decoration and then photo is used to make birthday invitation cards. How creative! See instructions from
Origami Spirit
.
Flag Holder: great for patriotic parties, BBQ, etc. More patriotic origami and paper-craft ideas
here
Super Sized Lucky Star – wow!

Stars in a Jar guessing game. Allow children to estimate the number of stars in a jar. The closest guess wins the jar filled with stars. It's healthier than guessing jelly beans.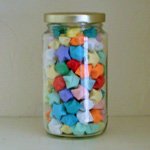 Send Packages: use lucky stars like packing peanuts; they buffer your gift so it doesn't get knocked around too much.