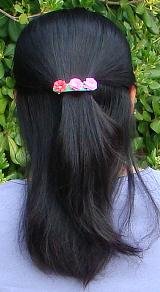 To make this barrette, you will need:
3 fringed flowers
one 2¼" barrette (buy here)
a piece of flexible plastic
green paper, and
glue
Flower Barrette Instructions
Make 3 fringed flowers according to instructions. The petals (purple, pink, red) were made with strips of paper ⅜" wide and 8″ long. The centers (yellow paper) were ¼" wide and 2.5″ long.Photos shows quilling flowers being made:
– purple is being rolled onto quilling tool;
– red is completely rolled;
– pink has had petals flared open.
Cut a piece of flexible plastic so that it is slightly larger than the 2½" barrette. Round the corners to avoid sharp edges. Wrap and glue green paper around the plastic.
When dry, glue the wrapped plastic onto the barrette. A glue gun works well and relatively quickly. If the plastic is thick or inflexible, you may need to clamp the two components together while the glue sets.
Glue on the 3 fringed flowers and you're done! Barrette is approximately 2½" wide.

These barrettes are perfect for flower girls at weddings: color coordinate with the wedding colors.
A nice variation is to glue on a pearl in the center of each flower.
Red, white, and blue flowers make a patriotic barrette.