Evergreen Tree
by Sarah Wooden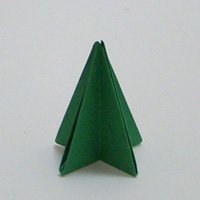 This origami Evergreen Tree was designed by Sarah Wooden. Her web site is no longer online but she used to have a wonderful collection of simple origami models which were both efficient and expressive. This tree is among one of her creations.
This paper tree is conceptually simple, but it is a little hard to make in that it involves a sink fold. If you do not know how to make a sink fold, see instructions here. The basic idea is this:
1. make a bird base,
2. sink the top, and
3. invert the model to make a 4-sided tree.
Shown on the left is Sarah's tree topped with a Lucky Star.
---
Evergreen Tree Instructions:
Start with a Preliminary Base. Make the valley and mountain folds as shown and then collapse the paper into a square shape which has a total of 4 flaps (2 flaps on each side).
As shown below, convert this to a bird base.
 
Fold the bottom-left and bottom-right edges towards the central crease. Unfold
Fold the top down; use the location of the previous creases as a guideline. Unfold.
Lift the bottom-corner and fold-in the edges along the creases made in step 1.
Bring the top flap down.
Repeat steps 1 to 4 on the back side of the model.
Sink the top part of the model. To do this, fold the top section back and forth to make the crease bendable in both directions. Open the model slightly and push-in the top corner until it lies in between the other layers of paper. See review of a sink fold here.
Splay open the 4 flaps so they are apart from one another.
Rotate the model so the base is pointing down.
Done!