Toilet Paper Origami Gem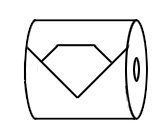 This toilet paper origami gem is a jewel among rocks. The design gives your TP rolls finesse and elevates it a notch above the classic triangle fold. The best part is that it is easy to make and takes less than 5 minutes to complete.
You only need to know two things: valley fold and mountain fold. Be careful though, the mountain fold is a bit tricky when working with soft and pliable toilet paper.
Toilet Paper Origami Gem Instructions
Valley fold the left and right corners of the toilet paper. make the folds a third of the way from the edges of the TP.
 
Pull the TP down a little so it is just beyond the height of the toilet paper roll.
 
Valley fold the TP up. Make the fold about half and inch above the triangles made in step one. the entire height of the gem is about 2 inches.
 
Mountain fold (fold under) the bottom corners of the toilet paper to make the bottom of the gem. This move is a bit tricky because you can't see underneath.It might be easier if you lift up the TP so you can see the underside and make valley folds instead of mountain folds.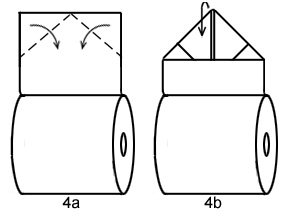 When you bring the TP back down, it will look like a gem!