Toilet Paper Origami Basket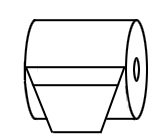 This toilet paper origami basket is pretty versatile. You can insert a sprig of flower or a decorative element into the basket so it adds charm to your bathroom. You can also pleat a square of toilet paper and insert it into the basket as show in this pleated tuck.
Toilet Paper Origami Basket Instructions
Pull down approximately one and a half "squares" of toilet paper. Mountain fold (fold back) the bottom edge of the toilet paper approximately 3/4 of an inch or 2 cm.
 
Repeat and mountain fold a second time. This second fold hides the raw edge so the resulting TP basket will have a soft rim.
 
Valley fold the toilet paper up. The amount of TP you fold up will define how high your basket is. You can make a tall basket or a shallow basket.
 
Mountain fold (fold behind) the left and right edges of the toilet paper to form the sides of the basket. The angle of the fold can vary based on personal taste: the basket can have a wide base or a narrow base.The important thing is to make the folds the same on the left and right so the basket will be symmetrical.

One way to achieve this is to adjust the fold as necessary before you press down to establish the creases.

Move the toilet paper roll up and down to position the basket. If you intend to add a flower or decorative element, then the basket should be lower so the inserted item is centered.