Origami Clothing
This pages is about origami clothing and fashion. Some of these clothes are actually made of paper whereas others are made with fabric but have origami folds in them. Some of the items featured here are available for sale, while other are straight from the catwalk and are not accessible to the general public.
---
You may remember making paper chains with bubble gum wrappers but have you ever made an entire dress by folding candy wrappers?
In May 2012, Diane McNease from northern Michigan made her prom dress using 18,000 Starburst wrappers. The wrappers were from neighbors & friends and the dress took her 5 months to complete. Watch video
However, she was not the first, in April, 2011, western Wisconsin mom, Kerrin Frey, made a Starburst prom dress for her daughter. The dress was accompanied with a Starburst purse, shoes, flowers, and a vest for the daughter's boyfriend. This dress took 6 years to complete and the wrappers were also from friends & neighbors. More.
---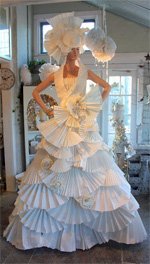 December, 2011: This fabulous wedding dress is made predominantly out of paper. Michelle from Taken For Granite and her sister made made the gown and named it "Noelle".
First seen in 52 Flea.
---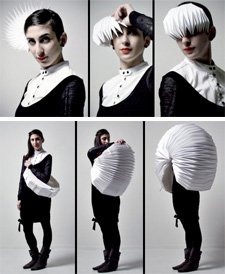 August, 2011: This very unique line of accessories was created by GAIA and it is called VEASYBLE. These corrugated structures expand and collapse to give you privacy and isolation as needed. The Visor isolates the eyes, the Ruff isolates the ears, the Mask isolates the face, and the Bag isolates the upper body. The privacy shells are made of paper bonded to polyethylene and fabric. See more here.
---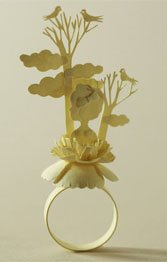 March, 2011: Although this isn't exactly origami, it is paper art.
Behold this exquisite finger ring made entirely of paper. Designed and created by Cuban-born, multimedia artist, Elsa Mora. You can't find this ring in her web site anymore, but you can see more images from her etsy store. Fabulous detailed work.
---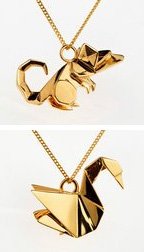 Designers Claire Naa and Arnaud Soulignac offer a line of Origami Jewelry. Naa, Soulignac, and origami artists first fold origami models using a single, square sheet of paper. Wax molds are then made and used to cast the jewelry pieces. Available in silver, gold plated, or gun-metal as necklaces, earrings, bracelet charms, and cufflinks, and more. Top: Eric Joisel's Rat; Bottom uncredited Swan.
---
November, 2010: This fabulous Trinidadian carnival costume was created by graduate student Tara Keens Douglas for her Masters thesis. "Sublimation Costume" was made with craft paper and was on display in the Master Works, 2010 exhibit. Douglas says that her architectural costumes "temporally distort the true nature of the body."
---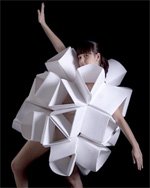 September, 2010: Art & Design research professor, Mauricio Velasquez Posada and his students have created elaborate, over-the-top origami garments. In Feb 2009, this was a student project called "Animorfos" but now it has evolved into "Geomorfos: the body as a metaphor of the geographical". Included here you will find dresses with snapology, kirigami, corrugations, tessellations, Chinese Paper Folding (triangular units), Sonobe units, Enigma Cube, Spikey Star, and more. See video here and here or photos here.
.
---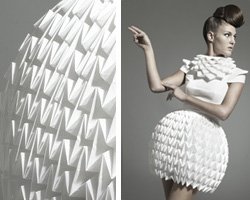 August, 2010: From Uruguay, Mercedes Arocena and Lucia Benitez created fabulous origami-inspired dresses for their thesis. The dresses used 4 types of modular origami units: waterbomb tessellation, Sonobe units, and Golden Venture folding triangular units, and Electra units. These garments were named "Nintai" which, according to Lucia, means "patience" in Japanese. Google translate suggests that it means "endurance" or "perserverance". See Lucia's bio.
---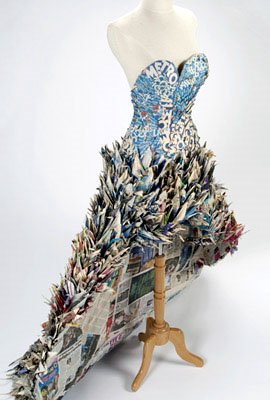 July, 2010: This form-fitting gown was made by designer Yuliya Kyrpo using Metro newspaper. Noteworthy are the 1000 newspaper cranes that adorn the peacock train. This wonderful gown was on display at the Trash Fashion exhibit in the London Science Museum. First seen here
---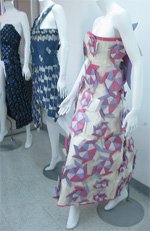 April, 2010: three lovely origami gowns created by Leticia Cruz Santos were presented at the Origami Bogotá conference. Note the full length tessellations and Robert Neal's UFO-encrusted dress. See larger photos here by JE Jaramillo.
---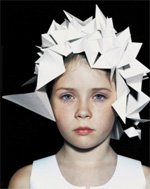 April to August, 2010: a variety of paper garments is on display in the Museum Bellerive in Zurich. This Pap(i)er Fashion exhibit will show various ways paper has been used as clothing. Everything from paper head dresses, yellow pages collars, newsprint comic dresses, Campbells soup label dresses, cardboard ponchos, and more. See more photos here. [Shown is stills from the film "Pen to Paper", UK 2003. ©Marcus Tomlinson]
---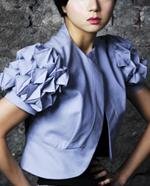 February 2010: Fashion designer and computer nerd, Diana Eng, is famous for her use of electronic technology in her clothing. The Fairytale Fashion Show featured clothing with embedded LED circuits and deployable garments. Noteworthy is the origami jacket with pleated sleeves inspired by Miura Ori. Learn more from her book Fashion Geek.
---
2009: Although this is not quite fabric folding, it is definitely fabric arranging. Still-life photographer Bela Borsodi creates faces and animals from clothing and fashion accessories. His animated faces are referred to as "textile origami". His work has been featured in international magazines including Vogue and Yalook, and on YouTube as talking heads. First seen here
---
May 2009: This amazing dress was made entirely out of newspaper by Isaac Mizrahi. This fashion designer rose to the challenge presented by USA Today to "Transform a stack of humble newspapers into an elegant garment". See interview with Isaac Mizrahi here.
---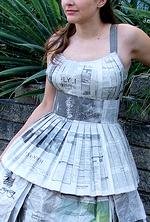 Nov 2009: …but you don't have to be a high-end fashion designer to make your own newspaper dress. Shown here at Instructables.com is a do it yourself newspaper dress with origami pleats. Nice! First seen here.
---
Spring 2009: The clothing in Andre Lima's Spring 2009 Collection has been compared to origami models. Yes, some of his creations do have a striking resemblance to the origami we all know and love. However, comparing all his work to origami models is a bit of a stretch. See more comparisons here.
---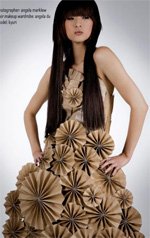 2009: This gorgeous dress is made with Whole Foods and Trader Joe's brown-paper grocery bags. The bags were cut apart, folded into pinwheel shapes, and then strung together. Creator, Simply Defined (Green) Project also makes dresses with newspaper, garbage bags, plastic water bottles, and soda pop cans. Links no longer active.
---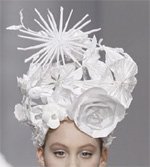 Spring 2009: The Channel Spring/Summer 2009 Haute Couture Collection stunned everyone with elaborate head gear made from scored, cut, folded, braided, twisted and sculpted paper. These pieces were created by Katsuya Kamo who is also a hairdresser and make-up artist. German fashion designer extraordinaire, Karl Lagerfeld, says "Paper is my favorite material. I see it as the starting point of all creativity".
---
Feb 2009: Nathan Austin created this origami tessellation dress after 4 weeks (10hr/day) of creasing and folding. The dress was created as a centerpiece to a short film. There was no stitching involved; only pleats, overlapping panels, and locking tessellations were used.
As a part of the film, the dress was destroyed. Writer/Director Nathan Austin says, "…I felt most alive, most awake to vitality, [] when my painstaking work had to be destroyed".
First seen in oschene.com.
---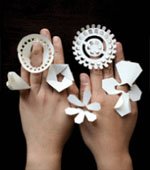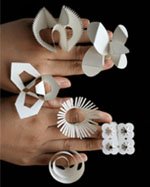 2008: Check out these amazing paper finger-rings made by Tithi Kutchamuch. They come laser-cut on a sheet of textured white paper: pop them out, assemble, and wear! There's 12 designs: one for every month of the year. See more from Tithi's web site.
---
Late 2008 to mid 2009: You know that origami fashion has gone over to the wild side when Lady GaGa appears with an origami inspired dress. This dress comes in white or, black & gold: you can make your own Lady GaGa Crystal Origami dress by using this template. Cutting, glueing, and some folding involved. Is it really origami? No – it's origami inspired.
---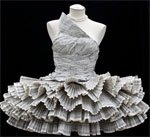 Origami Clothing:
April, 2008: Jolios Paons, a student at Herron School of Art & Design (Indiana University Purdue University Indianapolis), designed this paper dress for her creative processes class. Using only the pages from a telephone book, she pleated, stuck, sewed and glued everything by hand. With today's advanced technology, it's good to know that you can still do something useful with the archaic phone book. See more images from her flickr site
---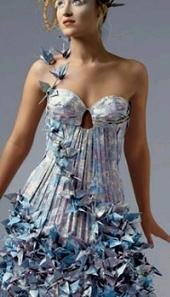 Origami Clothing:
The 2008 Venus Collection consists of seven dresses that celebrate the energies of the chakras and feminine archetypes:
Abundance,
Passion,
Freedom,
Peace,
Creativity,
Mystery,
Illumination.
Designer Lia Griffith of Papier Coulture specializes in "carefully sculpted dresses made primarily from paper". Shown is the 4th chakra, Peace, made with 1000 paper cranes.
---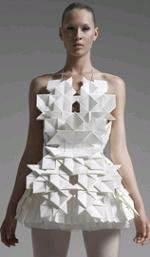 Origami Clothing:
Swedish designer, Sandra Backlund, is "really fascinated by all the ways you can highlight, distort and transform the natural silhouette with clothes and accessories". The "Blank Page" collection includes this origami dress and others of equal. First seen here.
---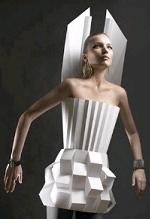 Origami Clothing:
The Paper Couture Collection from Doberman Studios features avant garde paper dresses. Shown is a futuristic dress with pleats and origamic architecture style cut-outs. It is not clear if Russian team
Ilya Plotnikov & Alexandra Zaharova make the paper dresses or if they only photograph them.
---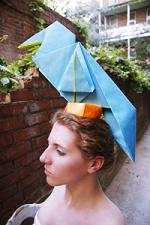 Origami Clothing:
2007/2008: Graphic Designer, Sagarika Sundaram, created ostentatious origami bird hats when she was a student at Maryland Institute College of Art. The set of 5 origami bird hats were called Hatto and they were inspired by tall English hats seen in the 1870s.
---
Origami Clothing:
Christian Dior Haute Couture Spring 2007 Collection featured many Japanese-themed dresses. Some had pleats and fold reminiscent of paper folding while others had showy fabric flowers. Designed by John Galliano; first seen here.
---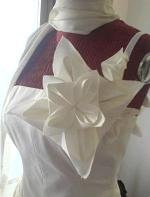 Origami Clothing:
Presented in the 2006-2007 13th Biennial of Young Artists from Europe and the Mediterranean. Giota Kaiopoulou (aka, Marquiseri) combines origami and fashion in her project "Origami Flowers". From Greece, this upcoming fashion designer enjoys origami tessellations, ethical fashion, fractals, and more. What a winning combination: flowers, petals & fabric layers.
---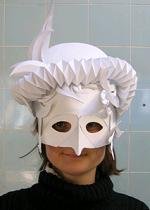 Origami Clothing:
Nov 2006: Polly Verity is famous in the origami world for her origami tessellations and corrugations. Her collection of paper clothing include paper dresses, elaborate masks & head gear, and wrap-around structures.
---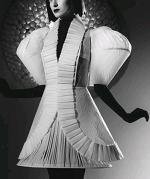 Origami Clothing:
In the 2004 Fashion Week in Sau Paulo (Brazil), designer, Jum Nakao, spent 700 hours painstakingly cutting, curling, pleating and manipulating paper into stunning dresses. Click here to see the cage-like skirts, conical dresses, curled-paper collars, and lacy cut-outs to die for! Everything done in white paper and if that wasn't enough, at the end of the runway show, the models lined up side by side and ripped their paper-dresses off. See video here.
---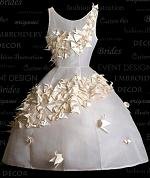 Origami Clothing:
Director and designer of Weng Meng Studios, Mariana Leung specializes in embroidery and embellishment. Shown: dress with origami cranes.
---
Vogue magazine, 2006: Robert Ryan has taken kirigami one step further by layering a paper cut design over top a gown. Definitely a one-of-a-kind dress!
---
Nitin Goyal Studio is known for its signature hand-crafted scarves which has intricate folds and pleats similar to those found in origami tessellations. They also make interior accessories (pillows and comforters shown), leather bags, and exclusive womenswear.
---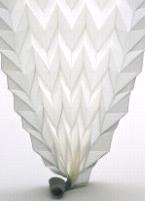 1997: Reiko Sudo from the Nuno Cooperation in Japan has done some fascinating work with fabric. Shown is an origami tessellation pleated scarf. First seen here and here.
---
Do you know of any more origami sightings? Let us know!
Many of these images are from the internet: they have gone viral without clear indication who is the rightful owner of the photo. Let us know if you want your photo removed from this site.