Origami Sticky Notes
by Suck UK. Okay, I admit that the business name is somewhat odd; however, the origami is not. These classic 3-inch, canary yellow sheets of papers can be made into cute origami models. The special feature about these Sticky Notes is that the origami instructions are printed right on the pages of the pad.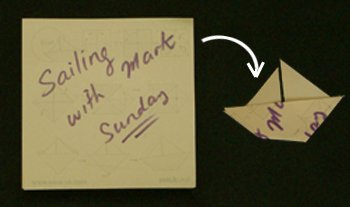 You can write yourself a note, and then fold the same note into a simple origami model. You don't need to look up the instructions or haul out your origami books because the instructions are printed right on the paper!
The current origami designs available include:
    -penguin (10 steps),
    – pelican (11 steps),
    – swan (10 steps),
    – pigeon (11 steps),
    – cat (10 steps),
    – snake (7 steps),
    – boat (10 steps),
    – hat (11 steps),
    – cup (10 steps), and
    – piano (11 steps).
The 100-sheet pads cost about $7 each: so they are not exactly cheap.
However, they are a novelty item that a true origami enthusiast will love.
It's a perfect gift for office workers who fold their letters into paper airplanes before they toss them into the bin. Also good as stocking stuffer, gifts under $10, nerdy gifts,…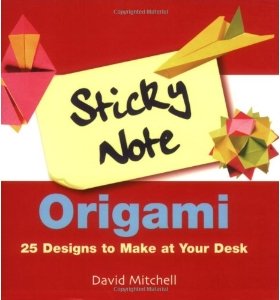 You need not restrict yourself to easy origami pre-printed on the papers. Sticky notes can be used for other origami models. You can even buy a book by David Mitchell devoted to
Sticky Note Origami
He offers one free
diagram for Suncatcher
here.