Origami Frog Base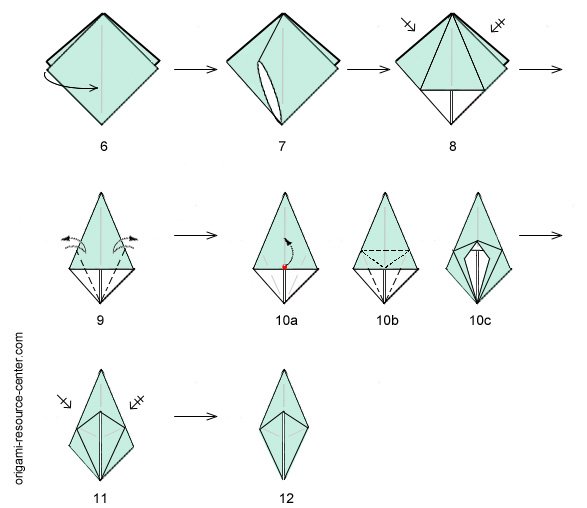 Origami Frog Base Instructions
Start with a square sheet of paper with color-side facing up.
Fold and unfold along the diagonal in both directions to get an X crease.
Flip the paper over so white-side is facing up.
Fold in half from left-to-right. Unfold.
Fold the paper in half from top to bottom.
Push the left and right corners inwards towards one another until new flaps of paper are formed in front and behind.
Swivel the flaps to the side. Follow the red dot to visualize the procedure. This is also called the preliminary base.
Bring one of the flaps towards you so it is point up (perpendicular to the rest of the model).
Perform the squash fold (pry open the layers as you press down evenly).
Repeat the squash fold on the remaining 3 flaps.
Perform the petal fold (fold and unfold the left-edge and right-edge of the paper inwards towards the central crease.)
Lift the top layer (red dot) as you refold the crease made from step 9. Steps 10b & 10c show transition steps.
Repeat on the remaining 3 sides.
Done!
As the name implies, the frog base is used in making the traditional origami frog. If you fold down the small flap (right image), then the model can be made into the traditional iris flower. Lillian Oppenheimer, co-founder of The Friends of The Origami Center of America which later became OrigamiUSA, used to designate the model on the left as the frog base and the model on the right as the lily base. However, most people do not distinguish between the two forms in such a specific manner. The base is can be called frog base, lily base, or frog-lily base.