Chopstick Wrapper Stand / Rest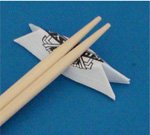 Learn to make a chopstick wrapper stand or chopstick rest using the paper around a disposable chopstick. When you are in a restaurant waiting for your Chinese, Japanese, or Vietnamese food to come, don't sit idle! Impress your friends with this mini origami table made from the paper sleeve surrounding the disposable chopstick. Not only is it cute, it also serves as a stand for your chopsticks. By placing the tips of your chopstick on your origami stand, it will keep your chopsticks clean – a made-on-the-spot chopstick rest
.
Rip open one end of the wrapper and remove the chopstick.
Fold and unfold the wrapper in half to find the midpoint.
Fold the left and right edges of the wrapper to meet with the central crease.
Fold the left half over-top the right half. The wrapper is now a quarter of its original length.
Mountain fold lengthwise through all layers. This forms a mountain or inverted V shape.
Inside-reverse fold the left and right ends as shown. This forms the "legs" of the origami stand.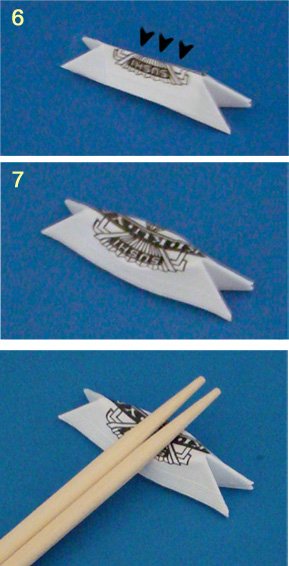 Press down on the top of the mountain to form a plateau.
Shape the model to form an attractive origami stand for your chopsticks.