Toilet Paper Origami Butterfly

This delightful toilet paper origami butterfly is easy to make and cute to behold. What's there not to like? The only "special" thing you need to know beyond the usual fold/unfold is to be able to collapse a crease pattern into a waterbomb base (step 4).
 
Detailed instructions not provided: at this point you should be able to follow the diagrams and complete the project without too much trouble.
Toilet Paper Origami Basket Instructions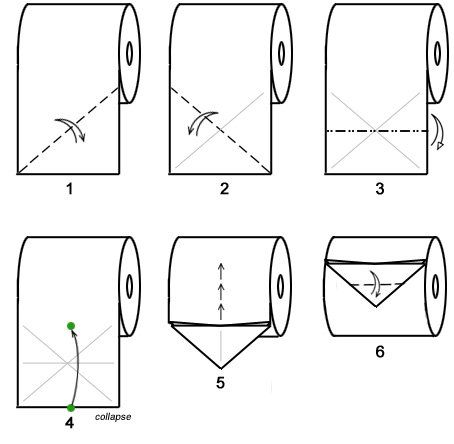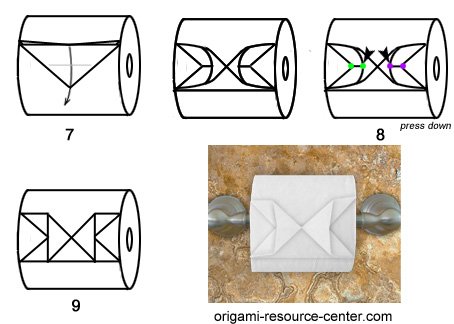 Some people love folding their toilet paper into cute and cool designs while other hate the idea of having someone paw over the toilet paper. Is that hygienic? Regardless of whether you love it or hate it, toilet paper origami is here to stay. Maybe not in your house exactly, but certainly, in hotels and cruise ships. These establishments fold your toilet paper as a symbol of cleanliness and completion. The attention to detail should make you feel like a special guest.
 
Admittedly, it is often just the Triangle Fold and not something as elaborate as this butterfly. I wonder how long (if ever) it will be before hotels use the pleated fold as the new standard in toilet paper art. The beauty of the toilet roll is offset with the time it takes to make the origami folds. As well, not all housekeepers know (or want to) how to fold origami. The logistics of having the toilet paper pre-folded ahead of time would be too tiresome. I guess we will stay with the triangle fold for a while.