Origami Dinosaurs
by Michael LaFosse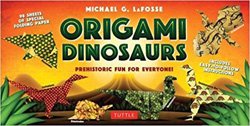 Origami Dinosaurs
by Michael LaFosse is a kit which contains 20 origami dinosaur designs organized into two booklets. Included in the kit are 96 sheets of origami paper, two of which are gold-foil paper.
This Origami Dinosaurs Kit is enclosed in a cardboard container which you can open and close by sliding the tabs into the slots. This container is very convenient because it keeps the origami paper and booklets in one place: it can be a good, self-contained gift.
The origami models are separated into two booklets; though they could have easily fit into one booklet. The origami paper is of two types. Some are double-sided solid colors. The second type have patterns on them. The patterns can be similar to the pattern of reptile-skin (suitable and appropriate), or the pattern can be of the dinosaurs themselves (cute but not that useful). Papers are 6″ squares but some of the origami dinosaurs are somewhat complex and a 6″ square is a little too small. Readers may want to get your own 
large origami paper
.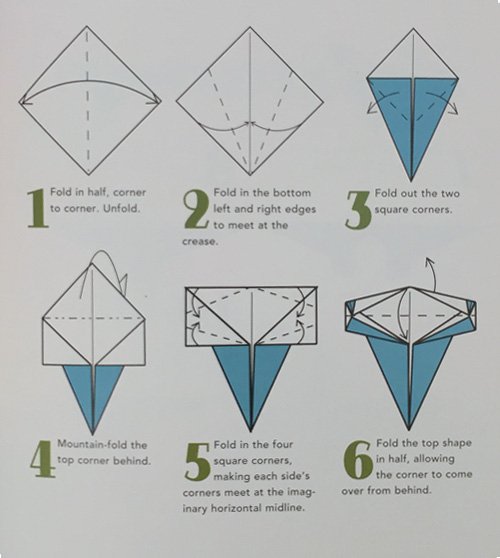 The origami instructions are in the form of origami diagrams with the typical dotted and dashed lines combined with arrows. Under each step, there are a few lines of textual information. Many of the origami "steps" actually contain more than one fold so reader should take care to complete every fold before proceeding to next step; don't rush ahead.
 
For those who have tried to make origami dinosaurs, you will already know that most of the models that are available on the internet are quite complex. One of the best things about this kit is that the models are doable. There are only a few "easy" models, but even the "intermediate" models are still quite feasible for those who have had some experience in folding origami. Some origami techniques used in this book include inside reverse fold, outside reverse fold, rabbit ear fold, pleating, and crimping. Scissors are used in two model (Simplesaurus, T-rex), and tape is used in two models (Archaeopteryx, Dimetrodon).
Most of the paper dinosaurs fall into one of three categories
The T-rex types: these are usually portrayed as the meat-eating dinosaurs that stand on 2 legs, can run fast, and are ferocious.
The Low on the Ground Types: the second type of dinosaur are those which walk on 4 feet, are lower to the ground, and are often herbivores.
Everything else And lastly, there are a few miscellaneous models such as dinosaur eggs, two dinosaur heads, two forms of pterandon, and a trilobite.
Some of the models are quite similar to one another so if you can fold one, you can probably fold a few more of the same style. In fact, Simplesaurus and T-rex are essentially the same model except for a minor modification on the dinosaur's head. Some models use two sheets of paper (Apatosaurus, Archaeopteryx, Dimetrodon) but most use one sheet of paper.
The Velociraptor is particularly noteworthy because there are two flaps of paper so the mouth can open and the toes can be flared. The trilobite is not hard to fold and the results are very satisfying. All in all, Origami Dinosaurs by Michael LaFosse is a good kit: it is self contained and the origami models are within reach and not ridiculously complex.
Models in Origami Dinosaurs by Michael LaFosse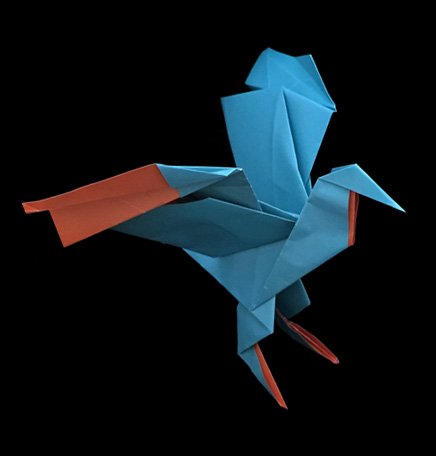 Archaeopteryx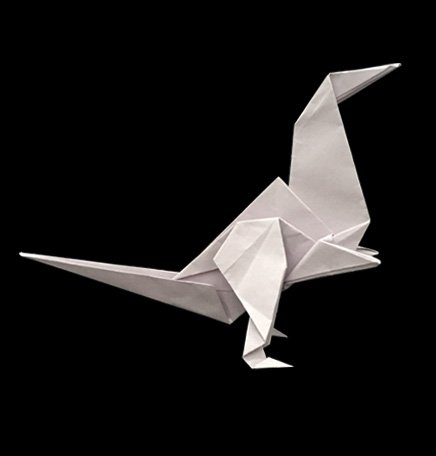 Coelophysis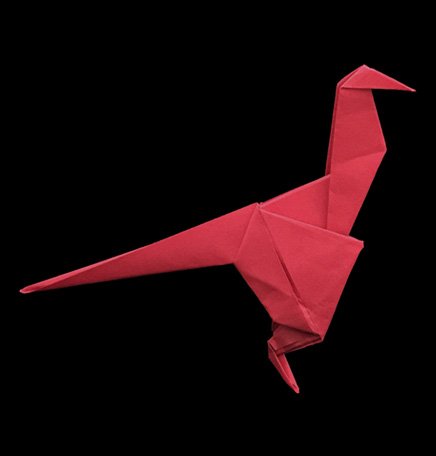 Gallimimus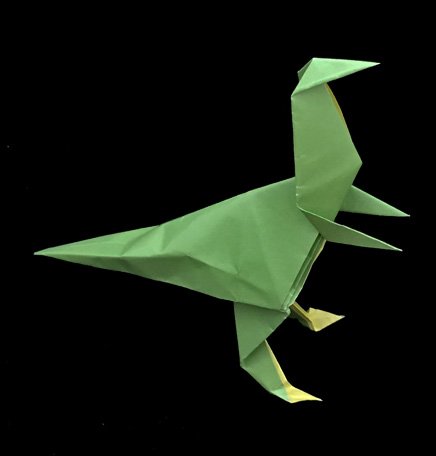 Simplesaurus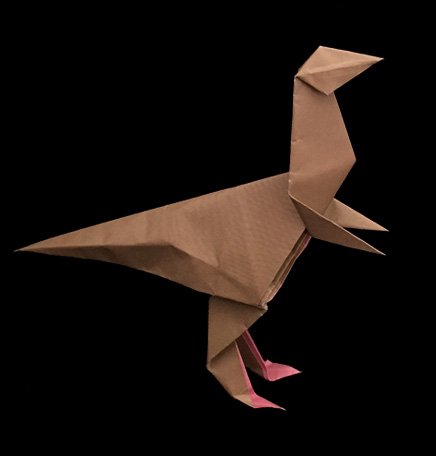 Tyrannosaurus Rex
Velociraptor
Apatosaurus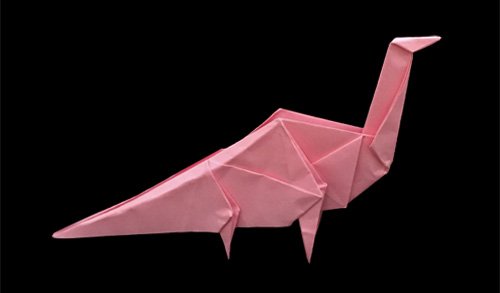 Brachiosaurus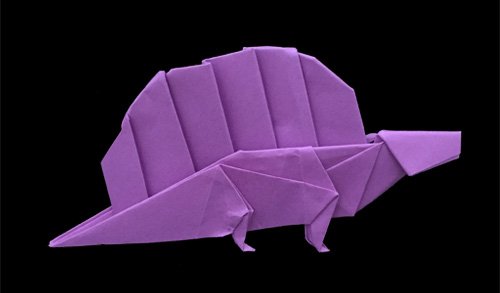 Dimetrodon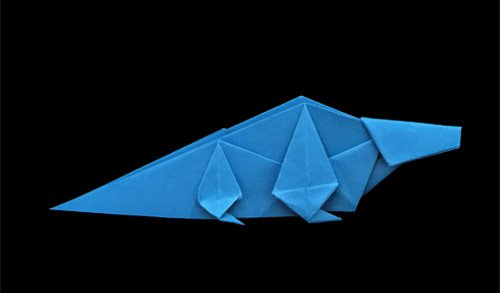 Eryops
Ichthyosaurus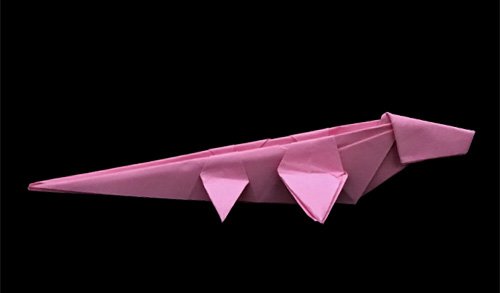 Placodont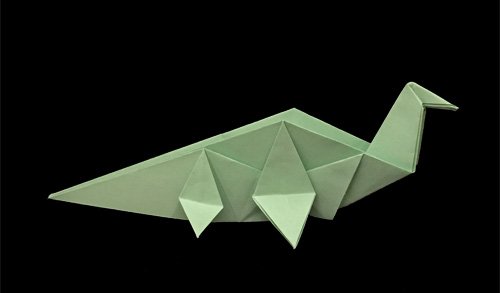 Pleisiosaurus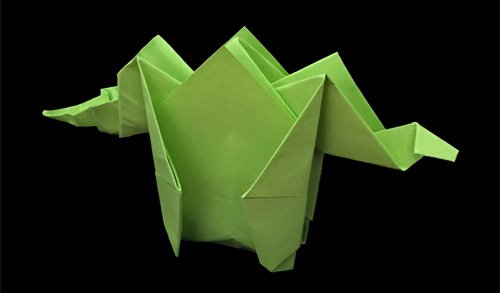 Stegosaurus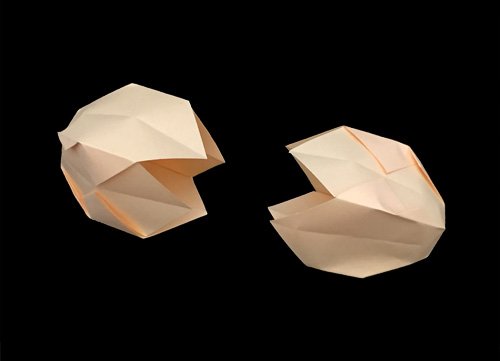 Dino Egg
Flying Pterandon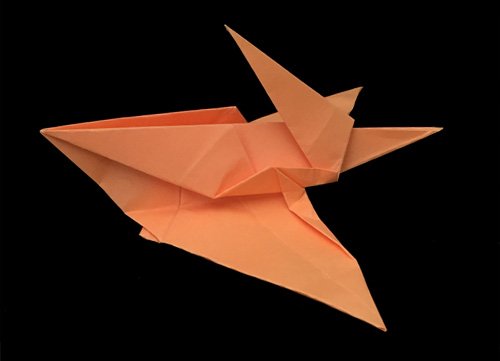 Pterandon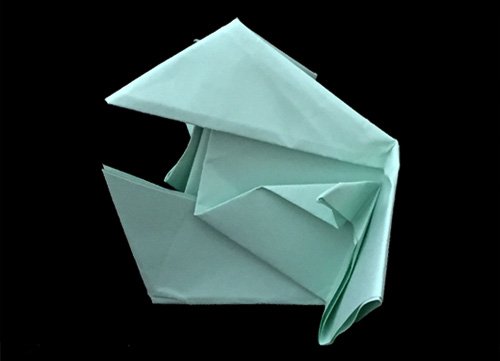 Triceratops Head
Trilobite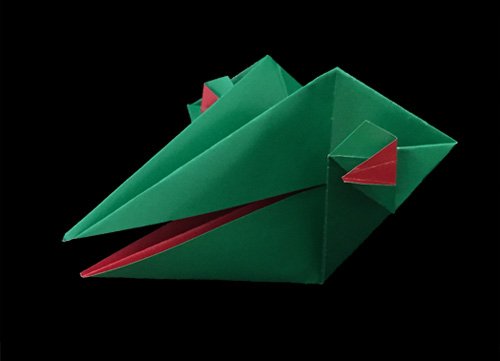 Velociraptor Head