Origami CD Cover Square Center
These instructions are adapted from the "Best of paper CD cases" Instructions by golics. See original video here.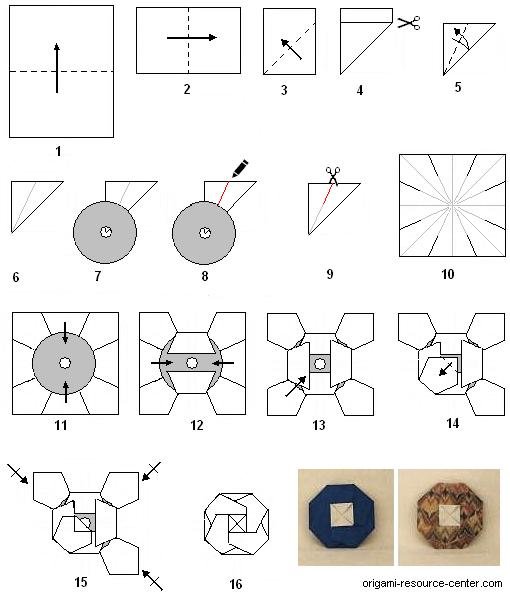 Take a piece of paper and fold it in half by bringing the bottom-edge towards the top.
Fold in half again by bringing the left-edge towards the right.
Fold in half yet again by bringing the bottom-right corner towards the left-edge. This forms a triangle with an overhang.
Cut off the excess overhang.
Make a crease mark by folding the left-edge towards the diagonal-edge. Fold and then unfold.
This bisects the triangle into two smaller triangles.
Place a CD on top of the paper. Align the CD so its center is exactly at the bottom tip of the triangle as shown.
Use a pencil/pen and mark the crease made in step 5 & 6. Mark only the area not covered by the CD,
Cut along the drawn line.
Unfold the paper completely. You should have a square with 8 cuts.
Place a CD in the center of the paper and fold the top and bottom flaps inwards.
Fold the left and right flaps inwards.
Fold a diagonal-flap inwards.
Fold the tip of this diagonal flap back a little. The folded edge should align with the center of the CD.
Repeat steps 13 & 14 with the remaining 3 flaps.
Tuck the last flap under the first flap to lock the CD cover in place.Beautiful!
Books about Holiday Origami
Origami Love Notes Kit by Florence Temko
Origami for Easter by R Hardyman & J Brooke
Halloween Origami by Nick Robinson
Thanksgiving Origami by Ruth Owen
Origami for Diwali by Robyn Hardyman
Christmas Origami by John Montroll
Origami Holiday Decorations by Florence Temko
Origami Holidays by Duy Nguyen