Toilet Paper Crafts
by Linda Wright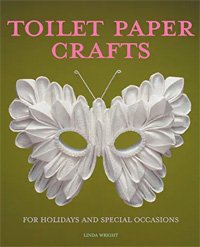 Toilet Paper Crafts
is Linda Wright's second book of fun with toilet paper. Although this book is not origami, it is included in this web site as a companion to her first book Toilet Paper Origami.
This book is 130 pages long and has instructions to make 60 toilet paper projects. When needed, templates are provided for easy replication. Only the front & back cover of the book has color photos of the finished crafts. The inside of the book has black & white text and line drawings.
The instructions on how to make the TP crafts is clear and complete: there is a list of required items, exact details on how many sheets or lengths of TP required; and tips to make the project shine. Information is given on the characteristics of the different types of TP available on market.
Two projects use the entire roll of toilet paper and the remaining projects use sheets of TP. Some projects like the TP Snowflake uses one square of toilet paper and can be accomplished in less than five minutes. While other projects like the Butterfly Mask will take over an hour of careful, detailed work. However, the majority of the projects are doable and do not require much time or skill. [Shown: Embroidered Toilet Paper]

Don't throw away those card board toilet paper tubes: these will be used to make the Butterfly Napkin Ring, Angel So Soft, Party Shakers, Toilet Tube Ornaments, and Gift Tags. [Shown: Angel So Soft]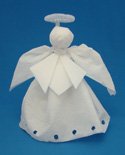 This is not an origami book so expect to make good use of the supplies in your arts and craft box: tape, glue, scissors, hole punchers, glitter, ribbon, sequins, pipe cleaners, embroidery thread, thread & needle, and a sewing machine. [Shown: mini lights are made even more stunning with a pleated skirt of TP; Flower Power]
For those who are very savvy with paper arts and craft, you may find that this book is a re-hash of all the projects that you already know with the added twist of it being done with toilet paper instead of paper or fabric. However, because there are so many projects described, there's bound to be something that is new to you.
Working with toilet paper offers challenges not seen with paper and fabric. Toilet paper is engineered to be soft and degradable. When making toilet paper crafts one must use a light touch. Avoid sticky, dirty, or sweaty fingers. When a project is done, avoid tinkering with it. Excessive manipulations will cause the TP tear or sag. The best advice is that once done, leave it be.
If your toilet paper crafts don't look perfect, simply get another stretch of TP and try again. TP is inexpensive and readily available. [Shown: Confetti Eggs]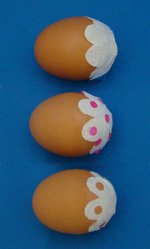 Below: TP flowers made in different ways to achieve a different look.
Row 1: Carnation, Dahlia, Peonie, Chrysanthemum
Row 2: Poinsettia, Cosmo, Daisy, Kanzashi Flower
Row 3: Rose, Rosebud Place Card, Origami Rose Party Favor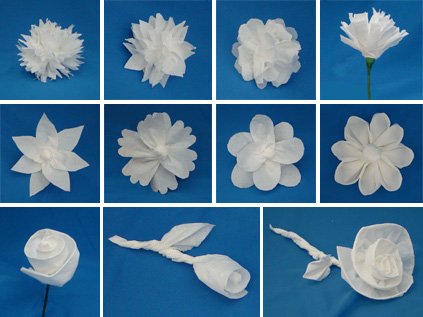 If you're having a party, toilet paper crafts come in handy.
Clown Cupcake Topper
Lollipop Posy Topper
Party Shaker

For room decorations, TP can be made into garland and banners. Shown is:
Honeycomb Garland
Ghost Garland
Heart Garland
Letters and Lace Banner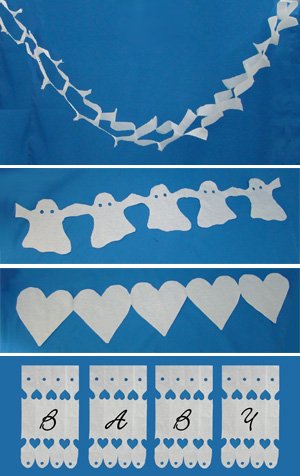 Snowflakes
Giant Pom Poms
Filigree Ornaments

Many of the toilet paper crafts produce small items which can be used to adorn gift boxes, birthday cards, name tags, and table settings. Shown is:
Origami Heart, Here's My Heart, Ruffled Heart Card
Origami Butterfly, Butterfly Napkin Ring, Classic Bow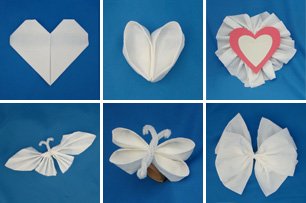 However, the most elaborate toilet paper crafts in this book are the masks and costumes. The Butterfly Mask and Skull Mask are quite divine. The Mummy Costumes, Head Gear, and Lovely Lei do not require much skill but will use a lot of toilet paper. [photo from amazon.com]
Summary
In summary, it is safe to say that this book has more toilet paper crafts than you can imagine. If you are a TP enthusiasts, this book should definitely be on your shelf! Instructions are clear and projects make beautiful show pieces. [Shown: Toilet Paper Cake with Tissue Roses]
On the down side, some of the projects in this book are not very practical because TP, by nature, is delicate. For example, a costume made with TP will not likely last the night. TP flowers that decorate your vanity will disintegrate if they get wet. Similarly, TP crafts that decorate food will absorb grease/oils and then droop. These TP crafts look cool and have a lot of "wow power" but be aware that they won't last forever.