Tessellation Inspired Origami Box Designs
by Arnold Tubis and Diana Lee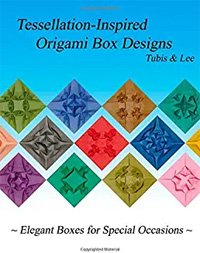 Tessellation Inspired Origami Box Designs
by Arnold Tubis and Diana Lee is a colorful volume filled with instructions for making 48 different origami boxes. Both the plain bottom and decorative lid of each box incorporate the wall-locking mechanism of the traditional Japanese masu. Three different methods are presented for forming snug fits between bottoms and lids.
The folding of all of the decorative lids starts with either of two basic forms (labeled I and II), each with three configurations (open, closed, and squashed) of the associated flaps. Once one learns how to make the two basic forms, the rest of the folding is relatively easy except for a few cases. A section near the end of the book gives suggestions for creating many designs from the two basic forms.
The phrase "Tessellation-Inspired" in the book title refers to the fact that the designs were an accidental result of one of the authors (AT) becoming bored with the endless repetition of tessellated structures on a square grid, and instead focusing on the forming of various 3D shapings of the individual units. It should be noted that all of the individual decorative motifs of the lids can indeed, if desired, be used as units of a 3D tessellation pattern. Shown below are the 48 tessellation-inspired boxes in the book.








The book is 56 pages long, and has a combination of line diagrams and photo-instructions.