Plant Parts Smarts: Science Adventures with Charlie the Origami Bee
by Eric Braun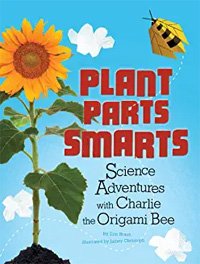 Plant Parts Smarts
: Science Adventures with Charlie the Origami Bee by Eric Braun is a cute picture book where an origami bee teaches other insects about plant anatomy and biochemistry. This is a picture book suitable for young children so the topics are introduced.
The story starts with a boy making an origami bee which then flies away to find fellow insect friends. Charlie the bee finds an ant, a cricket, a beetle, and a spider playing football with a sunflower seed as the ball. The garden insects lose the seed and the game comes to a stop. Charlie offers to help them find the seed but the garden insects are unsure because he is "not like any bug I've ever seen".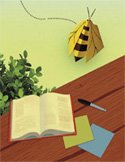 As they go on their journey to find the lost seed, Charlie tells the garden insects about the things he learned from the boy's science books. Topics include parts of a plant (stems, roots, leaves, fruit, pollen, nectar) and mention of biochemistry (photosynthesis, and carbon dioxide). From the flower of the plant, they find another seed which allows them to continue playing football. At this point, the garden insects decide to accept Charlie as a friend and invite him to play with them.
All in all, a cute book with introductory information suitable for children 5 to 8. Instructions to make Charlie the Origami Bee provided at the end of the book. This gives the book a hands-on component which children will appreciate.