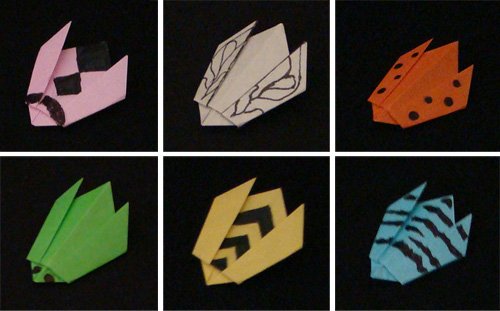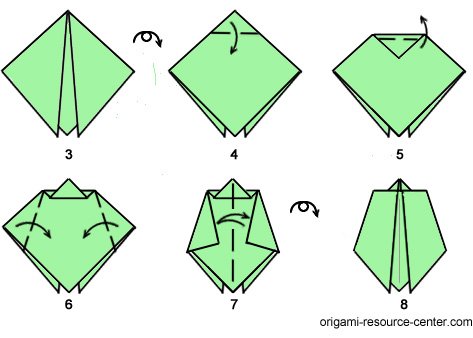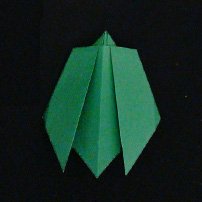 Easy Origami Bug
This easy origami bug is quite versatile and you can adjust it to be any bug you want. Use green paper to make it into an aphid or a green beetle. Use yellow paper and black markers to convert the generic bug into a bee or wasp. Red paper works for ladybugs and other red beetles. You can modify the angle of the wings and the shape of the body by adjusting the angle of the folds in steps 2 & 6 below.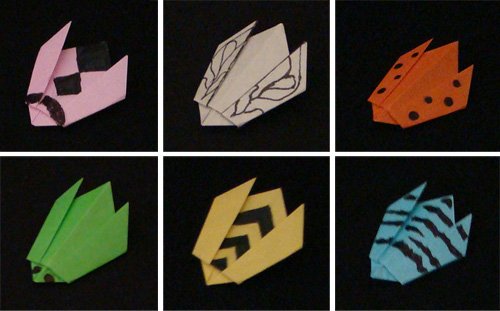 Start with a square sheet of paper with the white-side facing up.
Fold in half (top to bottom).
Fold down the left and right flaps so the corners of the paper point downwards and a little away from each other. These will be the wings of the bug.
Turn the model over.
Fold down the top part of the model; this will be the head of the bug.
Fold the head section back up making a pleat.
Fold in the left and right sides, make the fold at an angle so the body of the bug is more narrow and tapered.
Fold the entire model in half and unfold. This gives the bug some volume so it is not flat.
Turn over and you're done!